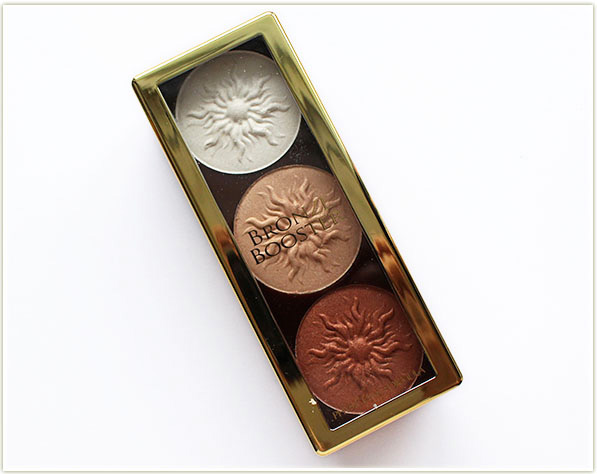 In December 2016, Physicians Formula launched a bunch of new products that I picked up as soon as I saw them (review on the Butter Blushes is here)! The Bronze Booster Highlight & Contour Palette in the Shimmer Strobing version (there's a matte one too) called to me because it looked so much like the BECCA x Jaclyn Hill Champagne Glow palette.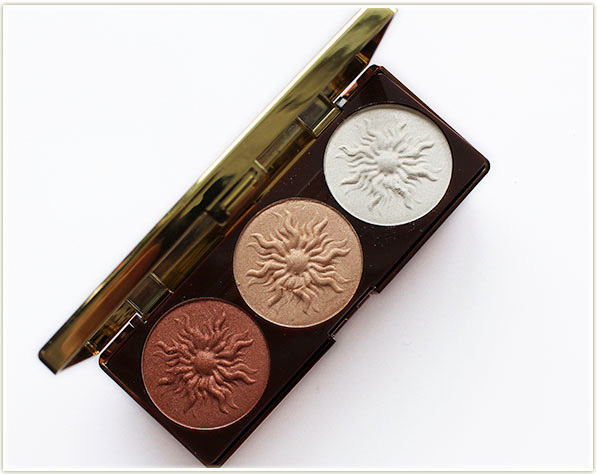 As always, the presentation of Physicians Formula's products is gorgeous. While the layout is identical to that BECCA product, the embossed print is new and always welcomed in a product!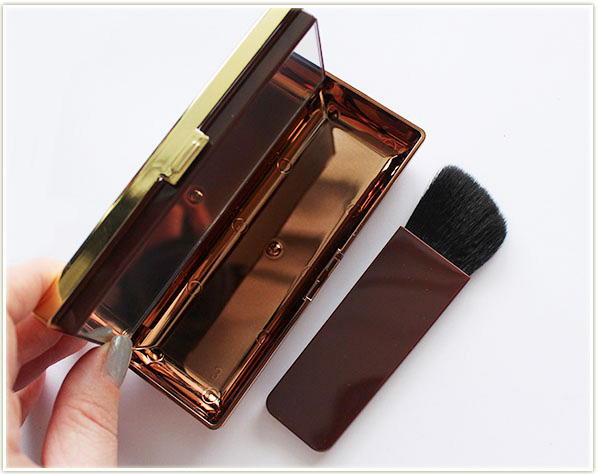 However, while Physicians Formula's presentation is always beautiful, their bulky packaging is not. Each product I've tried by them tries too hard to be extra helpful and in the end is only annoying. The bottom half of the packaging opens up to reveal a mirror (not helpful on the bottom) and a long brush (which I promptly threw in the garbage). The brush, by PF standards, is actually quite nice, but I really don't find myself ever using these built-in brushes so I find the addition of it to be just cumbersome and bulky.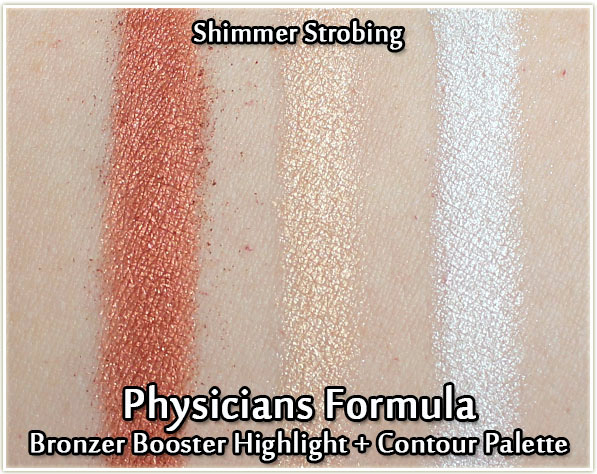 Packaging aside, the product swatches out really, really well. The colours are intensely pigmented with very little effort! I was especially impressed with the copper shade, although (as you'll see below) it's not a shade I can really wear on my cheeks.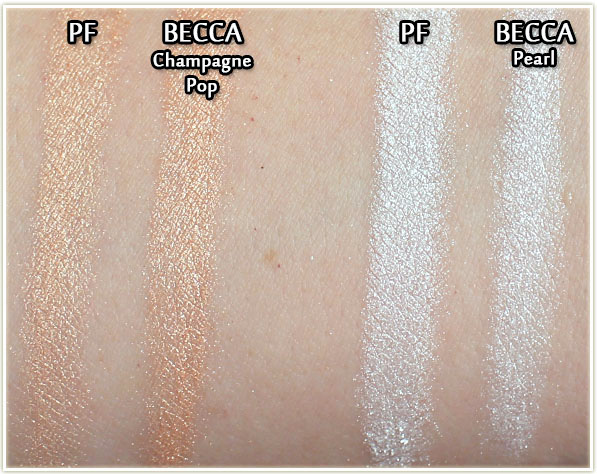 Since I own the BECCA versions of the champagne and white versions, I pulled them out for comparison swatching. The champagne shade is incredibly similar although I detect a hint more peach in the BECCA shade. The white shade is basically a dead ringer in my eyes. Worth noting however, is that the sheen on the cheeks is not quite the same. The BECCA products translates a wetter, more "in your face" shine, whereas the Physicians Formula product is a softer, more subtle version.
Physicians Formula Bronzer Booster Highlight & Contour Shimmer Strobing Face Swatches
In these shots I'm wearing only the highlighter – there's no blush on my cheeks.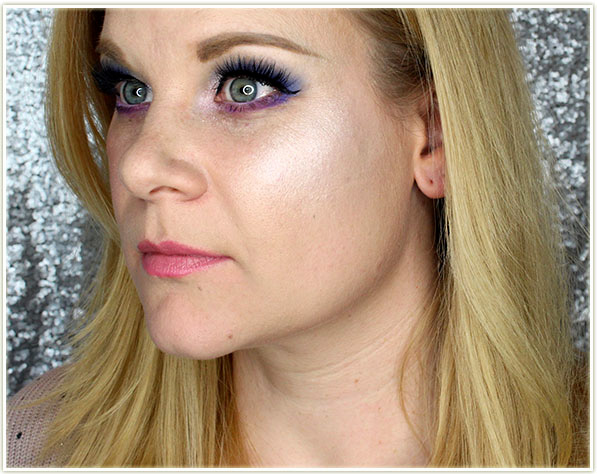 A very strong white with a hint of grey to it.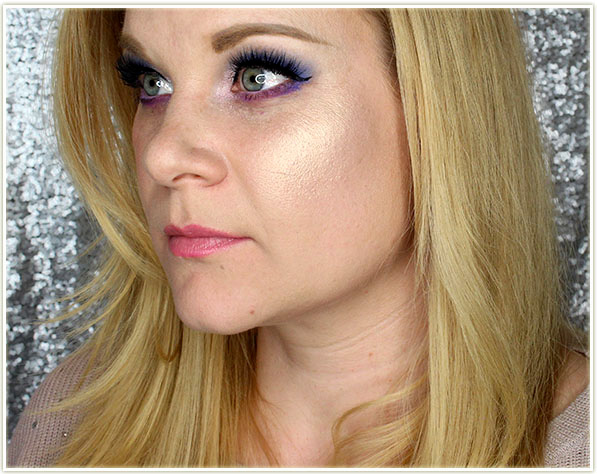 The most natural looking shade out of all three colours – very radiant!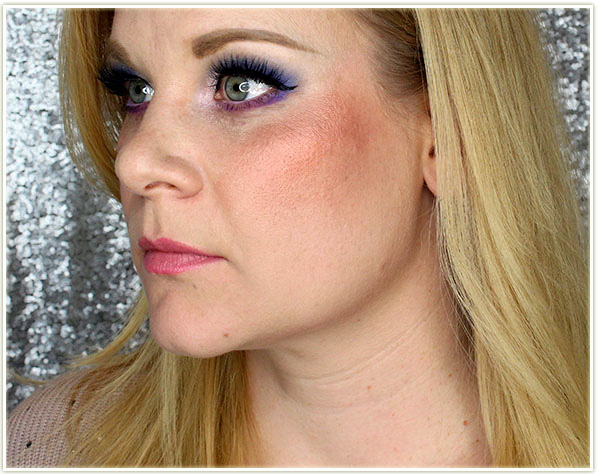 Zero chance I could wear this shade as anything other than an eyeshadow I'm afraid! Great pigmentation overall, but I found it blended out kind of weirdly.
Final Thoughts
If you're not willing to shell out the money for a BECCA highlighter (and I understand – they're super freaking pricey), I think the Physicians Formula Shimmer Strobing palette is a decent dupe. It is a bit more of a softer sheen than the wet-look of the BECCA products, but that's potentially a good thing for people who aren't looking for in-your-face highlighting.
One thing to keep in mind is that the copper shade is pretty much unwearable as a blush on my skintone. I haven't yet tried it as an eyeshadow, but that's pretty much the only way I'm going to get any use out of it. If you're a deeper skin tone than me and you've tried a similar colour on your cheeks, please let us know in the comments how it works on you! I'd love to know!
I also think the packaging is ridiculous. It's too bulky and unnecessary and the top hinge actually hinders you from getting at the product which is just a damn nuisance.
Man, okay, my list of complaints about this product seems quite long, but overall, I do actually like it. I think the white and champagne shades are beautiful to wear (and I've worn them multiple times since I bought the palette). I like that PF put out a near-dupe for the BECCA trio and I like that the pricepoint is more reasonable than the Butter Blushes (this was $21.99 CAD whereas the Butter Blushes were $18.99 CAD). So, to end this ridiculously long summary, I do recommend the product, it's just up to you to determine if you'll get enough use out of the shades that are included in the trio.
The Physicians Formula Bronze Booster Highlight & Contour Shimmer Strobing palette can be purchased on ulta.com for $14.99 USD.
Post contains affiliate links.