My second 10K race and one I also felt ill prepared for.  The week and a half prior to the race I was like "hang on, you only ran TWICE last month and you think you're doing a 10K race in 9 days? Are you crazy? Or just stupid?" Seeing that I'd only run two days in the previous month was slightly shocking. I knew I'd pulled out of running a lot since I was playing a lot of sports (soccer and frisbee were both ramping up and down at that point), but I didn't realize I'd scaled back on my running THAT much. So the week and a half prior to the race I was running almost every day in an attempt to cram for the run (something you're told NOT to do…).
The timing on everything that happened in the nine days prior to the race was just awful. Not only was I suddenly trying to bust out faster paces and longer runs, but I'd also had a wart frozen off one of my toes (nothing big, I just wanted it gone) at the same time. What an idiot. Two days prior to the race, I could barely even walk. I was out with a friend and the amount of hobbling I did to get home that Friday night was not only embarrassing, but it was so bad that I had to pull out of my soccer plans for the rest of the weekend in the hopes that I could ice and elevate my swollen toe enough to be able to even stand on it come Sunday morning, let alone run.
Anyway, on to the actual race!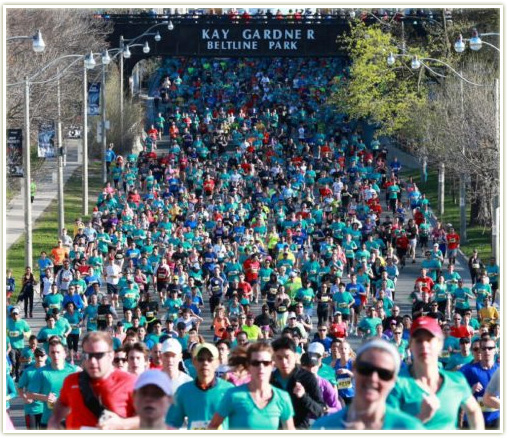 The start time for our corral was 8:40 a.m., and I knew I needed to eat something prior to run lest I feel like absolute death without some kind of fuel in my system. I woke up at about 6:30 that Sunday morning and it was absolutely beautiful outside – no wind, sunny, and about 14C degrees. I had half a small bowl of Quaker oatmeal mix and a bit of water, but not too much as I didn't want to risk having a full bladder throughout my run.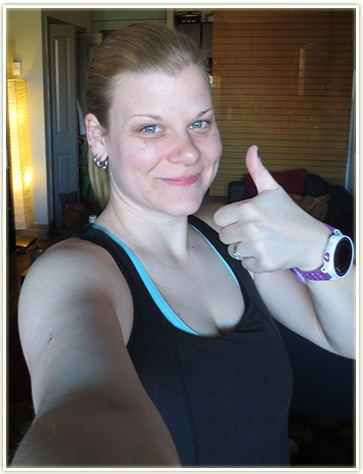 Of course, race jitters kicked in and I must've gone to the bathroom about four times before I even left the apartment. I met up with my friend at 8 a.m., and took a cab up to the starting area around Yonge and Eglinton since the subway doesn't run until 9 a.m. on Sundays. It was PACKED. We watched the corral before us take off (8:20 a.m. – Blue) and even though I had some friends running that group, I could't see them at all because there must've been about seven thousand people taking off in that group! We lined up for our time slot (Green Corral) relatively close to the front and waited for the start time.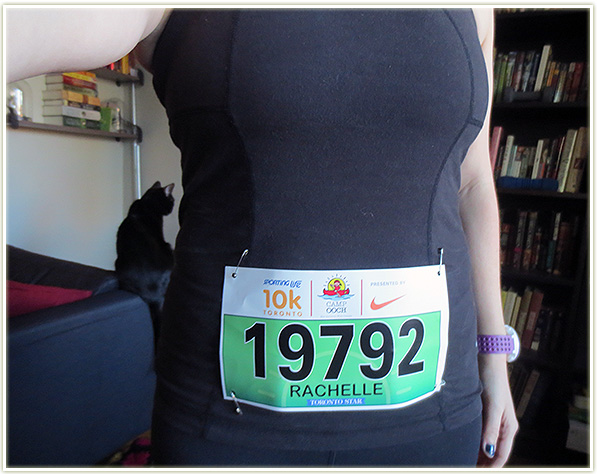 My previous 10K time was 59:37 from my race in New York City back in March, so I knew I wanted to beat that but I wasn't really sure if I'd be any quicker since I felt slightly more out of shape than last time. I'd also been having a lot of late nights lately and was definitely running a sleeping deficit. Thankfully, and perhaps this is somewhat of a cheap move, but the bulk of this course is very much downhill down Toronto's Yonge Street so that gave me, and everyone else in this run, a very decent step up. My friend didn't think he'd finish in under an hour, but he's fairly fit so I was pretty certain he'd do better than he expected.
The race started and we went our separate ways after we finally broke free from the crowd – and it was certainly busy since there was about 22,000 people running this! I was pretty certain I was ahead of him, but I didn't see him for a very, very long time and figured I'd gotten way too far ahead.
Two kilometers into the race I suddenly got that feeling (ladies, you know what I'm talking about) that I had gotten my period. I was NOT prepared for it. Another half a kilometer later, the cramps kicked in. All I'm picturing at this point is getting to the finish line soaked in blood and looking like a damn idiot. There wasn't even any point in stopping at a porta potty because it's not like I was carrying a tampon with me. Praying I was wrong, I did my best to try to forget about it, ignore the ever increasing cramps and keep going. (I don't care if that's TMI for some people, the reality is that this could happen to anyone.)
The cramps eventually did dissipate somewhere around the 4 km marker and body-wise it was pretty smooth sailing from thereon in. Nothing felt tight or cramped, my legs felt loose and everything else felt in tip-top shape.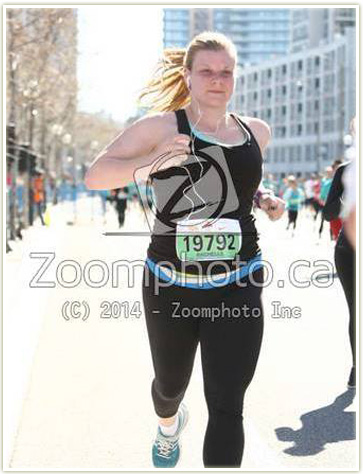 Running down Yonge is pretty interesting. You can see how far off everything is and you really wonder how the heck you'll ever make it there. Seeing the tall Bay tower on Bloor Street far off in the distance and realizing that's not even the halfway marker is pretty bracing. As it's a course I don't often run (I've only ever gone up Yonge Street since I live south of Bloor) it made for an interesting route. When I run, have a habit of staring at my feet, or directly in front of me, since I'm usually looking out for potholes or people to pass, but with this run, since it was on a downhill slope, there was a lot more opportunity to look up and off into the distance. It was really neat to take in more of the surroundings than normal. Once again I wish I'd had a camera with me so I could take in the sights and post them on this blog, but ultimately my racing time matters more to me and carrying a camera while taking pictures would've cut into my time.
As I hit Bloor Street and moved closer into the downtown core, I started to pick up my pace. I started checking my Garmin to make sure I was on track since I definitely didn't want to run slower than my previous race. I was fairly certain I was on track for a 56-57 minute finish, but I didn't want to suddenly falter and drop down to 58 or 59 minutes. It's funny to think that a few minutes means so much, but shaving off time in running always feels important, even if the numbers are small. At least then you know you've accomplished something and done better than you did last time.
I actually ran into my friend around kilometer 7 and was shocked to find him ahead of me! I thought I'd left him far behind! I was pleased that he was keeping pace rather well (this was his first 10K) and clapped him on the shoulder to let him know I was there and gave him a big thumbs up and a smile. That being said, I got annoyed with myself for thinking I was in the lead (not that it was a race between us, but clearly I got cocky) and put on the burners. You can see my sudden pace increase between the 7th and 8th kilometers.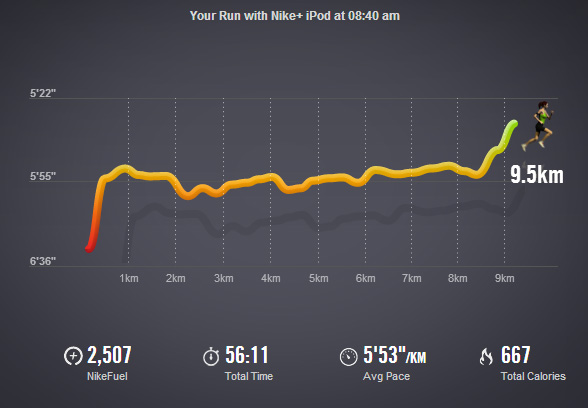 The final kilometer was hard. It was one of those moments when you're like "why am I even doing this? You can just walk the rest of the way and it won't matter." But I persisted. Physically, at the time, I'm pretty sure my body was telling me I couldn't up my pace to finish a little bit faster, but when I look back on my speed grids at the end, I was definitely increasing my pace in the last kilometer. So I suppose I was pushing it, but at the time I felt completely lethargic. I also didn't feel like I could suddenly sprint to the finish line either, which is something I had always felt in my other races (and was kind of an indication that I hadn't been pushing steadily enough throughout those races). I mean, if you can bust into a full sprint at the end, you clearly weren't utilizing the last 9.5 kilometers appropriately for pace.
I crossed the finish line and then headed off to the right hand side to look for my friend. I wasn't sure if he was ahead or behind me at this point, and I kept getting ushered towards the awards area. In the end, he came in two minutes behind me and he was soooo happy with his finishing time. I clocked in at 56:23 and he was about two minutes later than that. Since he hadn't expected to finish in even under an hour he was very visibly excited about his time! As for me, I was dead pleased with mine. With a race time of 56:23, I had managed to shave off 3:14 from my previous 10K!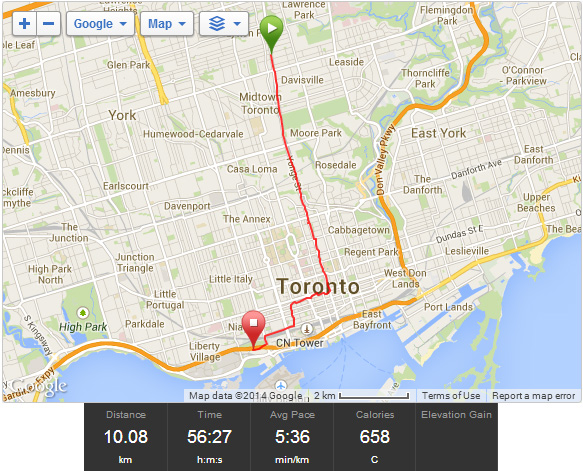 It wasn't until the very end that I realized that my foot problem hadn't even remotely bothered me and that I definitely had not gotten my period (eeesh… thank heavens for that – although I'd love to know what the heck those cramps were because they were definitely time of the month cramps).
It was an awesome day and I'm really pleased with my finishing time. Now to work my way towards a 50 minute 10K!
10K Race Summary
Finish Time: 56:23 (new personal best)
Pace: 5:39 per kilometer
Overall placement: 7901/21751
Age group placement (Female, 30-34): 557/2102
Gender placement (F): 3166/12739
Next up is a 5K in Ottawa during Ottawa's Race Weekend!