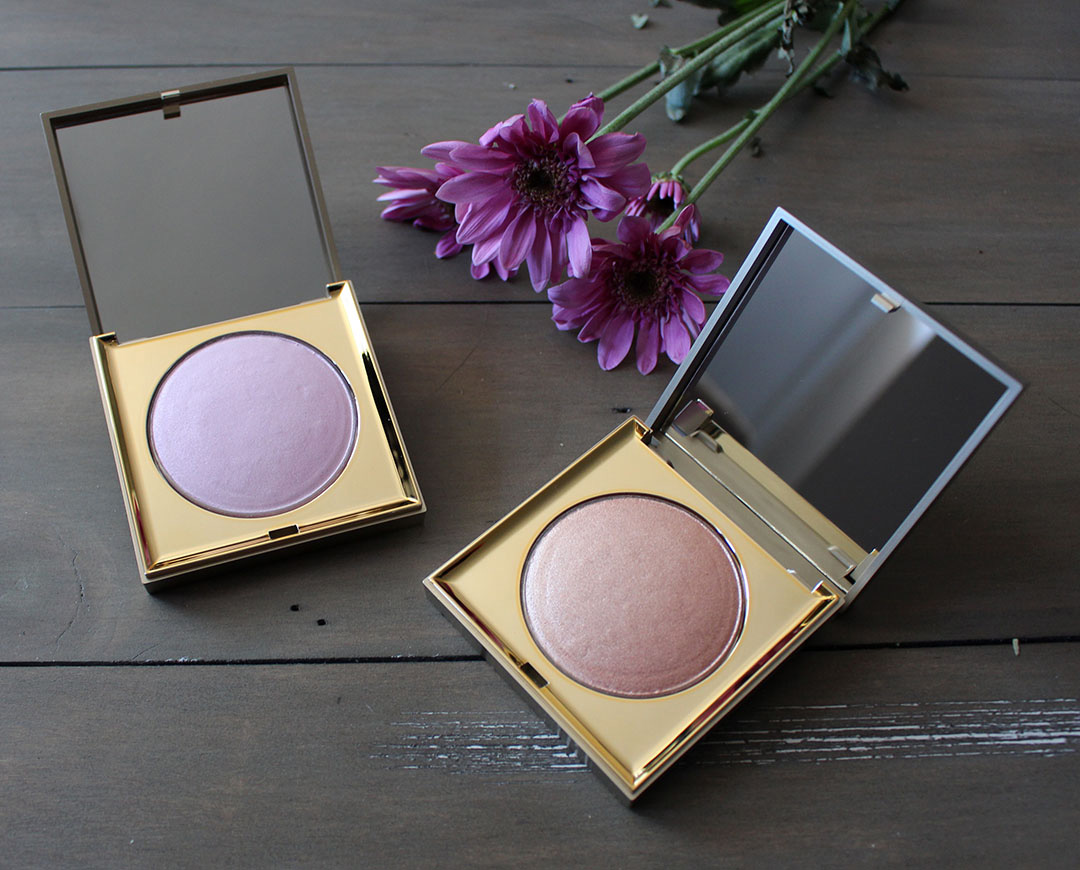 You may remember that stila released a trio of highlighters called Star Light, Star Bright for the 2016 Holiday season (Temptalia's review of that is here). I remember playing around with it at a PR event and loving the look of it, but HATING the texture. It felt like putty and I could never really get any kind of colour payoff on my finger swatches, so I kind of figured it was just a dud.
So when stila released these Heaven's Hue Highlighters… I was a bit skeptical. The texture and appearance look absolutely identical, but how were they going to play out on my face?
There are three colours in the Heaven's Hue Highlighter range: Kitten (stila's infamous bronzey-pink shade), Transcendence (an ethereal purple-pink) and Bronze (which I don't have). These are the same shades as the ones that appeared in the holiday trio, but I really feel like these got a formula update. I say that because the colour payoff is amazing and completely unexpected because the product feels like putty under my fingers. I was expecting that a brush would get zero colour payoff because of the weird texture, but that was not the case at all – my brush picked up plenty of product!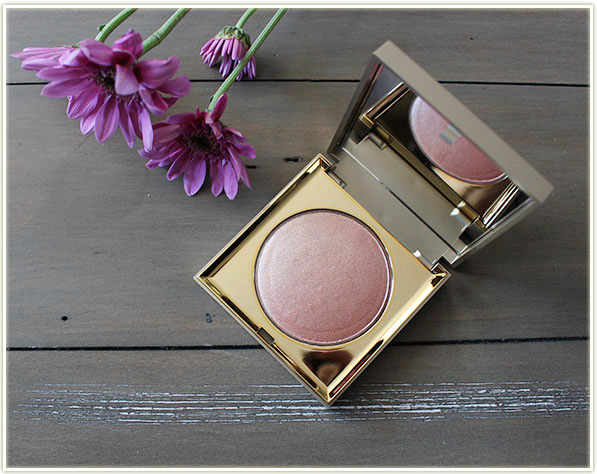 stila's infamous Kitten shade is a warm copper-bronze with a pink tinge. This is verging on too dark for my skin tone (around NW20), but I wear it anyway because it has enough of a reflective tone that it doesn't look like it's deepening up my cheek that much.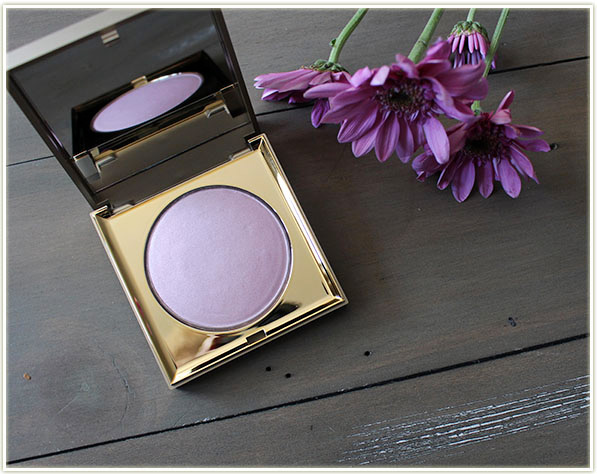 The fun colour in this collection is Transcendence – a beautiful lavender-pink shade. I love that more and more brands are hopping on the oddly coloured highlighters bandwagon. This is not a shade for those of you who want something that looks natural. If, however, you want to look like some ethereal being, this is definitely the highlighter for you!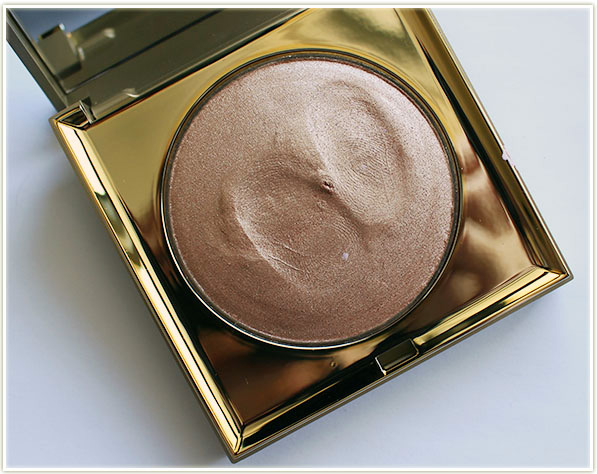 See what I mean about the texture? IT'S SO BIZARRE. The product is impressionable, but it will buckle and pucker if you apply too much pressure (look at the space between my fingers – the product cracked and broke a bit there). Granted, I doubt most people are going to be jamming their fingers in this – but it was certainly fun to play with while I did!
And yes, just to reiterate – your brush will pick up the product, even though it looks like untouchable pudding. I've seen a few reviews where people couldn't get colour payoff, and I'm not really sure what to say to that other than that I used my Real Techniques Contour Brush and had no problems whatsoever.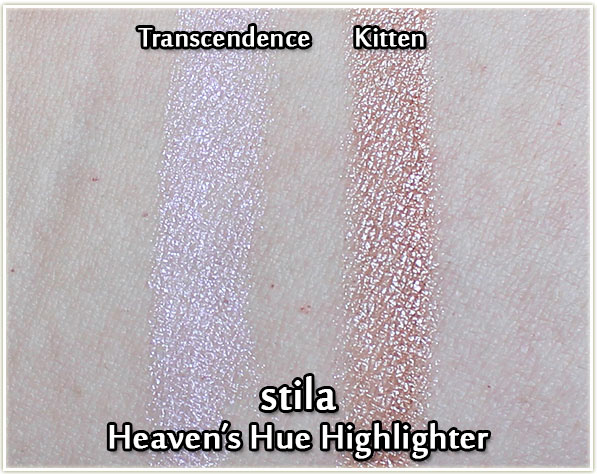 Swatched out you can see that Transcendence has that ethereal sheen (although it looks more impressive in person to the human eye) and Kitten is definitely a bit deeper in tone than you'd expect. Neither highlighter has any particles of glitter within it.
stila Heaven's Hue Highlighters – Face Swatches
I'm wearing only the highlighter on my cheek in these shots (on top of foundation).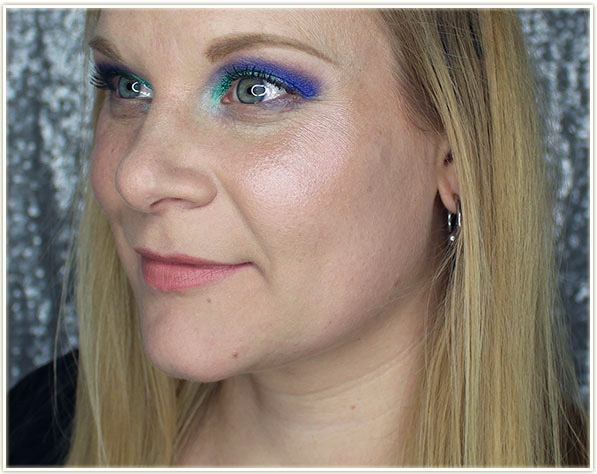 Kitten does have a deeper tone than my skin, but when you blend it out you're left with mostly a sheen.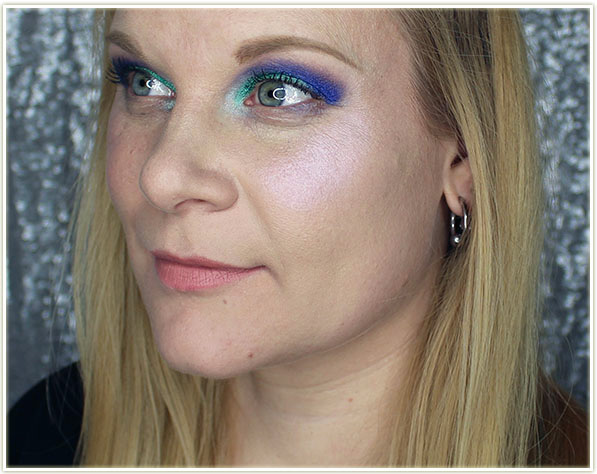 Transcendence is a lot of fun. The purple-pink glow is so, so much fun to wear!
Final Thoughts
As all of my input in this post has been positive, I think it's safe to say that you already know that I'm really into these stila highlighters!
For me, the most impressive part was seeing how well my brush picked up that weird putty like texture and applied to my face. It also applied as if it were powder too, so this highlighter is basically witchcraft as far as I'm concerned. I've been enjoying wearing both of these shades for the last 2-3 weeks and I never cease to be amazed at how well they apply and wear on me throughout the day. If you're looking for a new unique highlighter, I think one of these is definitely worth your money!
The stila Heaven's Hue Highlighters are available on sephora.ca for $42 CAD each or on sephora.com for $32 USD.
The products featured in this post were sent to me for consideration. Post may contain affiliate links.