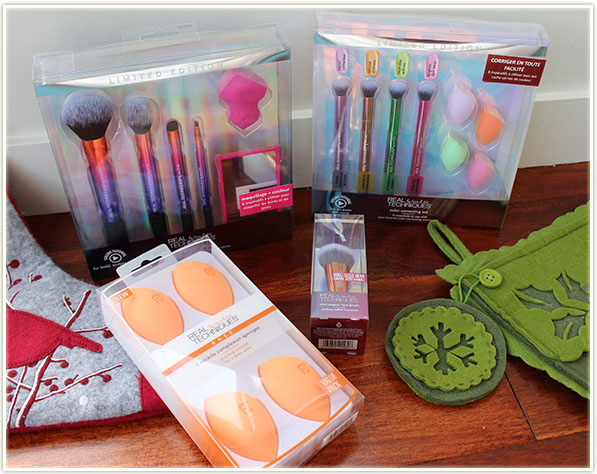 While I'm not really a brush person when it comes to makeup, there's one thing I can say for sure, and it's that I am a REAL TECHNIQUES person. Every time they have a new launch, or extension to their range, I AM THERE. And you know why? It's because the quality is always consistent and I have yet to encounter a brush I don't love. And? Their price tags are completely reasonable!
Real Techniques has a number of new launches lately that I wanted to cover – including some limited edition sets you may want to snag before they're gone – so let's hop right in.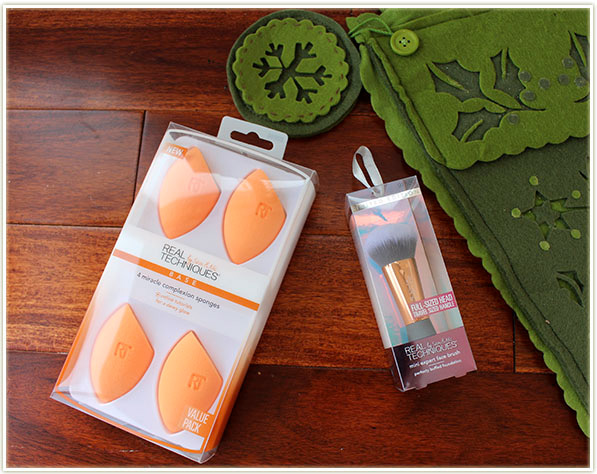 The number one most exciting launch for me is that they're now selling the Miracle Complexion Sponges in a 4-pack. A chance to save some money on my number one used foundation sponge? Hell yes I'm into it! The Miracle Complexion Sponge is the *only* product I use to apply my foundation because it leaves me streak-free and looking airbrushed. The porosity of the sponge is perfect – it's dense enough that it doesn't soak up all of my foundation, but it's also soft enough so that I can spread the foundation around evenly.
For those who like a traditional brush to apply their foundation, the Expert Face Brush is a good alternative to my beloved sponge. (If I'm out of sponges, I'm using this brush!) Just in time for the holidays, Real Techniques has launched a mini version that's perfect as a stocking stuffer. While the size of the overall brush is smaller than your full size one, rest assured that the brush head is the same size – you're really only getting a smaller handle.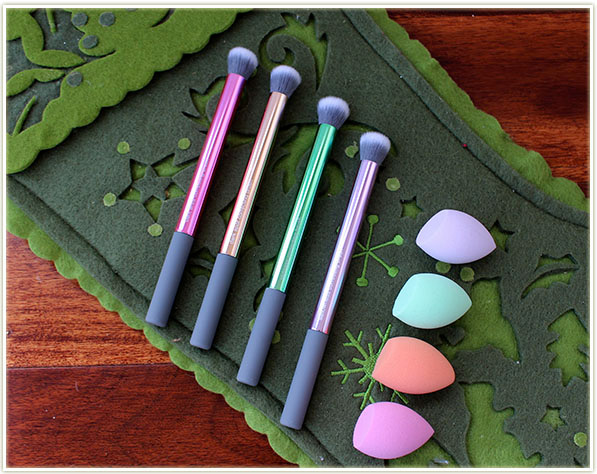 Moving on to the limited edition sets, I've got two that are out for the holidays that fill me with utter joy. The set pictured above is their Color Correcting Essentials Set. The idea behind it is that you can use the brushes and mini sponges to help colour correct areas of your face with the appropriately coloured sponge and brush. Personally, I get the point behind the colours, but my main reason for loving this set is that the brushes are IDENTICAL to the deluxe crease brush! What a great way to pick up four extra crease brushes (and all with lovely coloured handles). I had thought that the price of this package would be a bit too pricey considering it's four brushes and four sponges, but it retails for about $17.99 CAD/$19.99 USD which is a phenomenal price tag! I'll likely only end up using the sponges for concealer every once in a blue moon, so for me this set was allll about those brushes!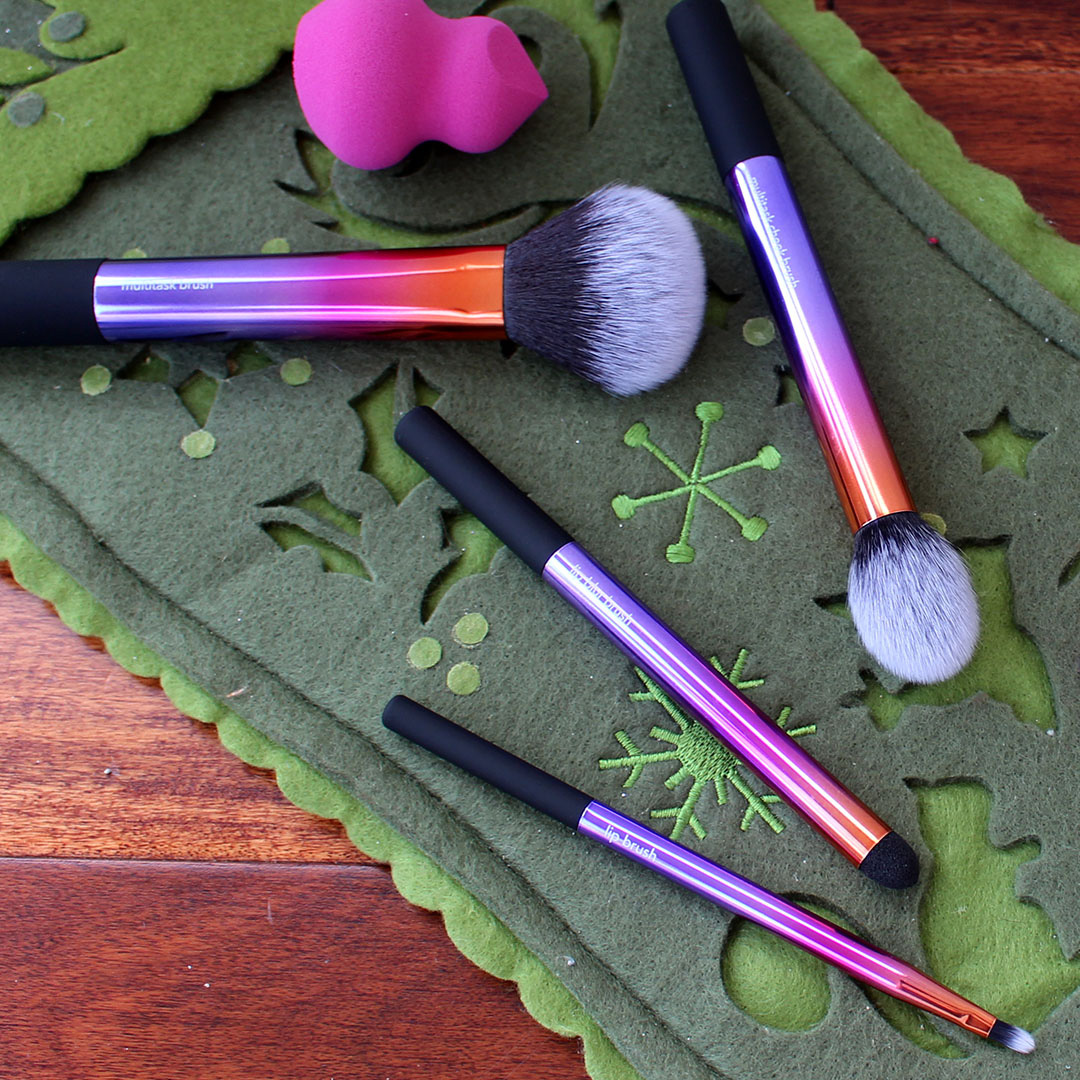 ANOTHER exciting one – the Color and Contour Set! Number one, look at that freaking colour gradient on the handles! From copper orange to hot pink to purple? YESSSSS! And number two? This set has my beloved Multitask Brush which is the only brush I ever use to apply my bronzer. That brush is currently only available in another set (the Technique Essentials Kit) which I could repurchase so I have more than one brush, but it's got a bunch of other brushes in there that I don't necessarily need. So I was extremely happy to discover that this set has it in there!
This set also comes with the Multitask Cheek Brush (great for blush or highlighter), lip blur brush (an interesting one to me – I often see Sam of Pixiwoo – creator of this line – obliterating harsh lip lines since she doesn't like the way it looks – so I can try that with this one), lip brush (great for lips, OR great for applying glitter to my lid!), miracle sculpting sponge (totally new to me) and a mirror. This set is a bit more pricey than the last one at $34.99 CAD/$24.99 USD, but you're getting a lot of really good brushes in beautiful packaging so it's well worth that price tag. Heck, that Multitask Brush is well worth the $35 alone!
Real Techniques is available at select Pharmasave, London Drugs, Pharma Choice, IDA Guardian, Value Drug Mart, Jean Coutu, Unipix and Familiprix stores in Canada. Looking to purchase online? Check out farleyco.ca for all your Real Techniques needs!
The products featured in this post were sent to me for consideration. Post contains affiliate links.