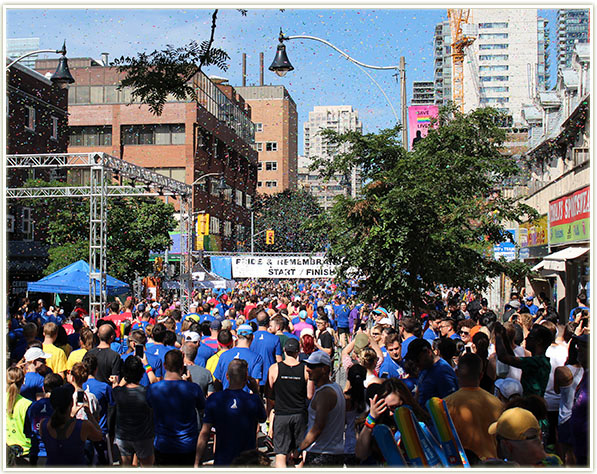 Hoooo boyyyy! I was WAITING for one of these races to finally happen in my racing "career". The race where you're sick for the day of the race and don't want to even cross the finish line because you're so ashamed of your finish time.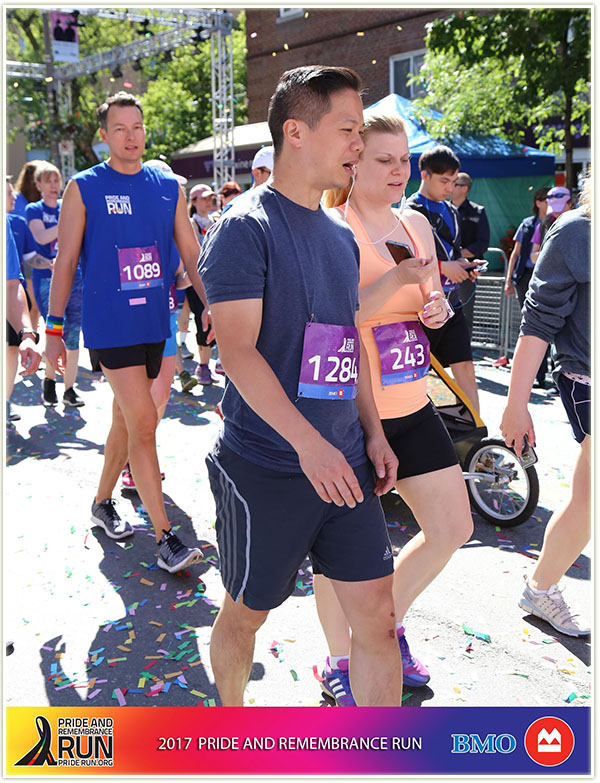 Frankly, it was a long overdue for me – the 2017 Pride and Remembrance Run marks my fourth running anniversary and it's slightly astonishing that I had never been physically ill for a race prior to now. But there we have it – I was coughing and phlegming like a beast going into this race and it's almost a week later that I'm writing this post and I still sound deathly ill.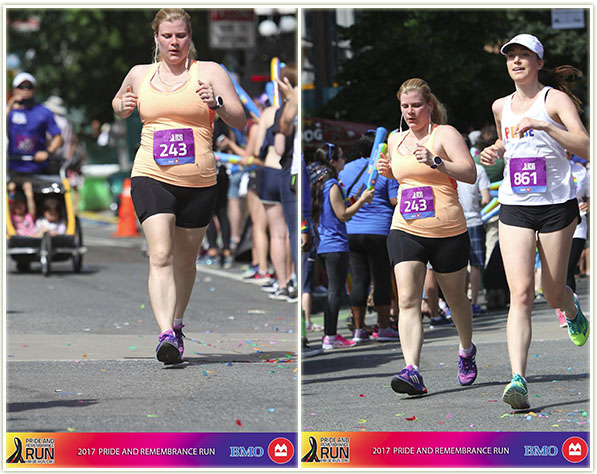 The race got off to a really bad start to begin with – there's supposed to be a sub 25 minute corral (which is not me – I'm a solid 26 minute 5K runner), and everyone else was supposed to go five minutes after that corral took off. That's not how it ended up working. The air horn went off and EVERYONE took off. I was so unprepared to start that I didn't have my music ready to go or my Nike Plus tracker set up to go on my phone (Garmin was good to go though). I spent the first thirty seconds of the race fumbling around with my phone trying to get the music going while bouncing up and down. What a mess.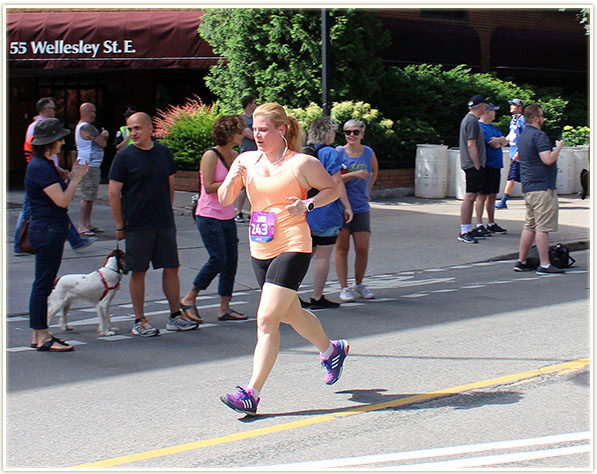 I had this hope that despite my sickness, my body would somehow overcome that and bust through with a decent time. I was pretty hopeful at first – my first kilometer clocked in at 5:18, but then I hit a wall and my speed just started to slow down incrementally per kilometer (2nd kilometer was 5:47, then 6:15, then 6:17, etc.). I had zero drive to push harder and I really just wanted it to be over with.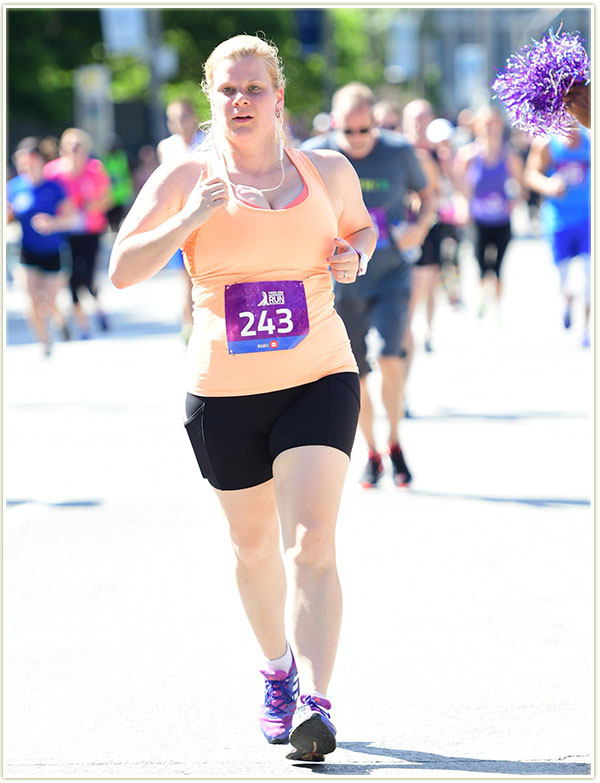 I had a few moments where I was determined to just drop out of the race and/or start walking. It was at that point that I started bargaining with myself: was it more shameful  to finish a race slowly, or at least complete it without walking? In the end I decided that I would just not walk any part of it, but still push on and finish.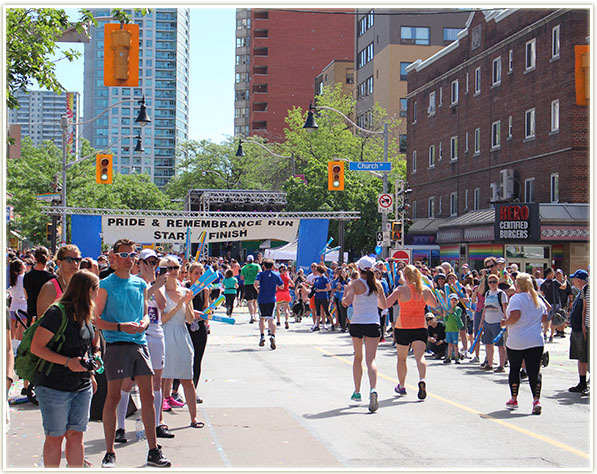 The whole race I felt like I was very close to coughing up a lung and/or throwing up because I just felt so wretched. I was so out of it I didn't see my husband in the end zone taking pictures (like the one above), nor did I realize I'd worn the wrong SHOES to the race! I didn't even catch on till we got home, I took my shoes off and then later on was like "wait, why are THOSE shoes out and not my new running ones?" (Not that it would've made a difference, but the shoes I did end up wearing have clocked over 900 kilometers on them and are quite worn down on the soles.)
Soooooo in short? Worst race of my life! I finished with a chip time of 30:15 which is far and beyond my worst 5K to date. So now I have a new personal worst! To give you an idea of how slow that is for me – I usually run a half marathon (21.1 kilometers) around a 6:05 per kilometer pace. This race was done at 6:02 per k. So suffice to say… I was pretty annoyed.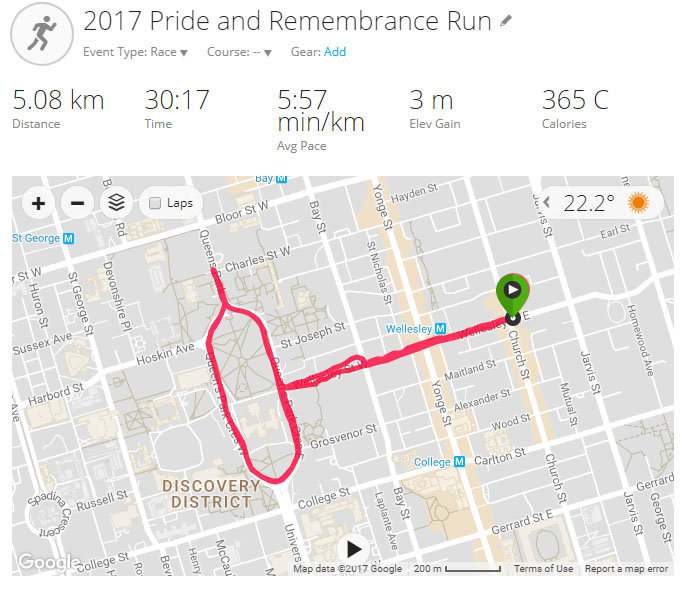 On the flip side? I completed it even though I felt atrocious. I bargained with myself and was happy that I managed to talk myself into NOT walking the race. Yes, my personal pride is injured by this race time, but I was also sick and I *know* I can do better next time. Of all the places and races to be sick for, I'm glad it was in a run I feel extremely comfortable with and in my own neighbourhood.
An enormous thank you to all of the volunteers corralling people and handing out water, and to the people cheering us on at the finish line. You guys really, REALLY help us out!
Race Results
Finish Time: 30:15
Pace: 6:02 per kilometer
Overall placement: 695/1165
Age group placement (Female 30-39 years): 81/202
Gender placement (F): 218/589