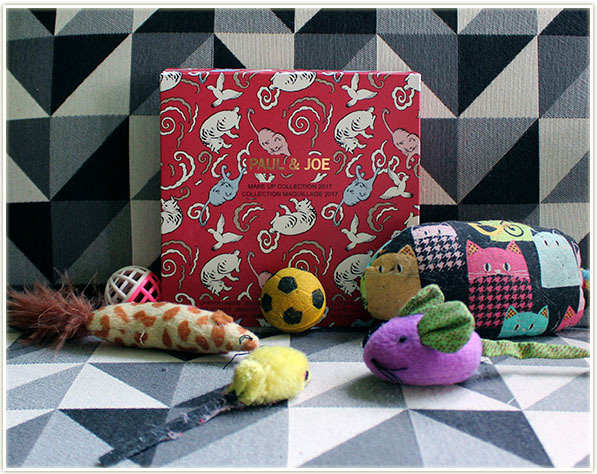 And here we have it… my first holiday 2017 product review! And what better way to start off than with a combination of cats and makeup?!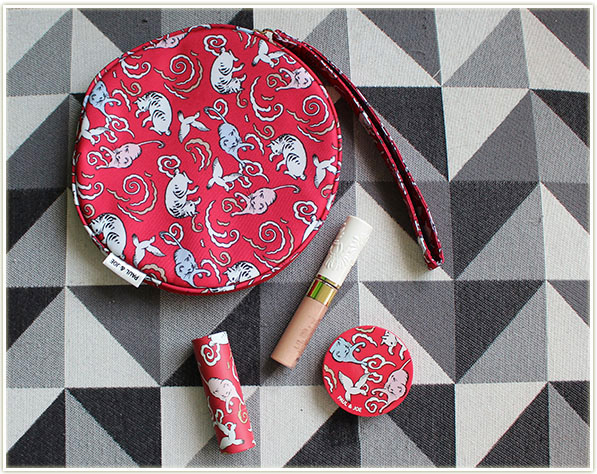 Paul & Joe Beauté often use cats as inspiration for not only their packaging, but also their lipstick bullets (yes, really). This trio set, labelled as "Make Up Collection 2017 001" comes with a round makeup bag (made in China) and three products inside (all three made in Japan).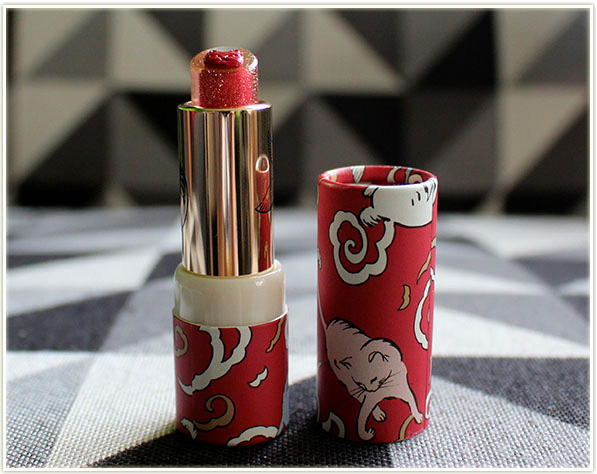 Hands down the cutest item is the Lipstick Limited 003 (I don't get these names at all, but hey, that's what it's called). The packaging, as is typical for Paul & Joe, is hard cardboard and I believe the outer shell itself is reusable, so should you happen to finish the lipstick, you can buy a replacement bullet and slot it inside the tube.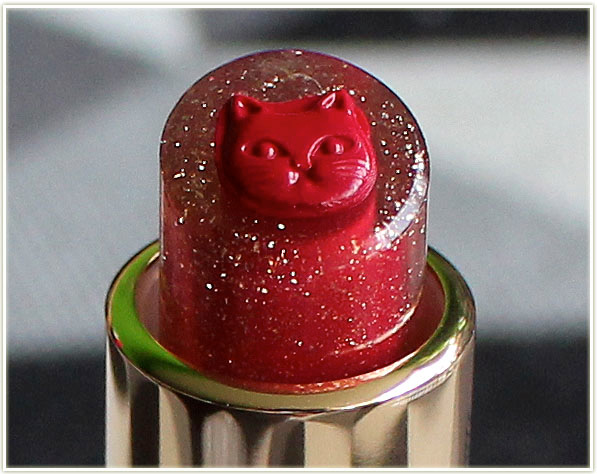 However, it's what on the inside that delighted me to no end. The lipstick has a sheer outer edge that is essentially a jelly balm filled with gold glitter particles whereas the inside core is a beautiful red that's shaped like a cat's face! How freaking ADORABLE is that? It actually pained me to use it the first time, but in the name of blogging I forced myself to do it.
The consistency of this lipstick is more like a balm and extremely juicy looking (swatches and face shots are below). I found this lipstick to be extremely comfortable to wear, although it did apply a little bit differently than how I normally wear lipstick. Because of the outer rim being translucent, it means the bulk of the product ends up on the inner rim of your lips – which is actually quite lovely since it creates a natural ombre fade.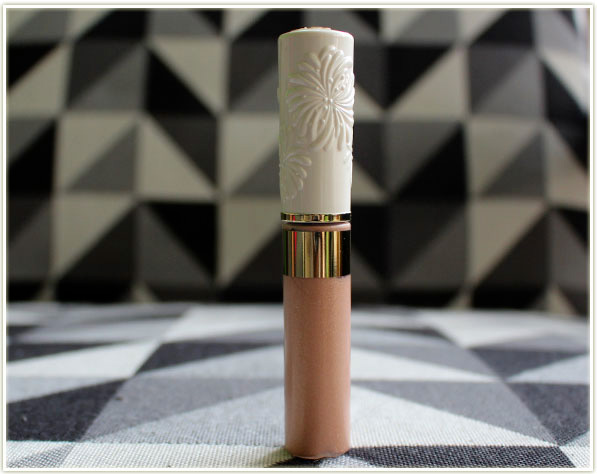 Sooooo when you first look at this product… what do YOU think it is? Because I thought it was a lip gloss. So I plopped it on my lips one morning and was like "OH GOD THIS IS HORRIBLE WHY IS IT SO STREAKY AND GOOPY?". Then I read the packaging and had a "you're a total dumbass, Chelle" moment. This is actually an eye gloss and is really not supposed to go on my lips. Whoops. Of course, when I read "eye gloss" I also wasn't that amped about the product either because my experience with eye glosses has never been positive. Labeled as "Eye Gloss S 001", this one is a little bit different than ones I've tried in the past however – it's not as viscous as the MAC eye glosses are (those are such an utter failure in my opinion) – this one has a thinner consistency and actually dries down relatively fast.
However… eye glosses, liquid shadows, cream shadows, etc., are really not my favourite kind of product. While I felt this added a little bit of sparkle to my eyelids, it's not something I would reach for with any kind of consistency. It caused a little bit of creasing on my lid (very little though) and it had a tendency to lift the shadows I had applied underneath.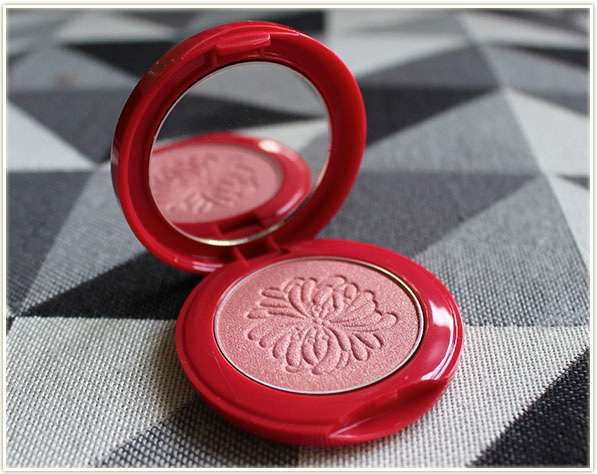 The last item in the makeup bag is Shimmering Blush 001. The compact is small and adorable AND it has a mirror. Sometimes brands skimp out on the mirror when the product is small, but thankfully not this time!
The blush is pink-leaning-peach with quite a bit of sheen to it. I opted to skip highlighter on days when I wore this just so I could see how well it actually lit up my face, and I have to say I was impressed. I'm a diehard for highlighter, but it's not always necessary – ESPECIALLY when you've got a blush that can delivery some of that glow. Given the softness of the colour, I was expecting the blush to fade into oblivion throughout the day, but that wasn't the case at all. It stayed true to its colour the entire length of the workday.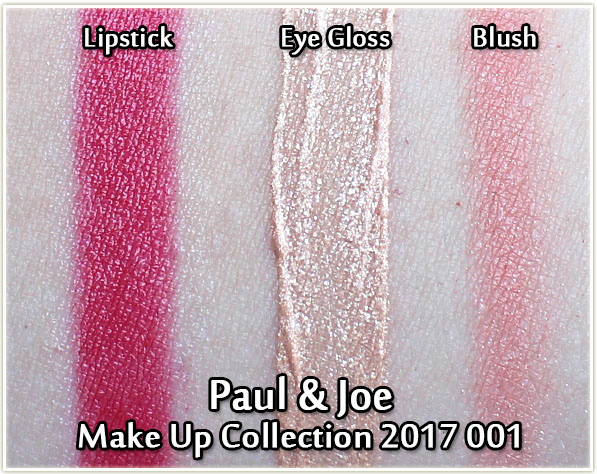 These swatches should give you a better idea of how the products look:
The lipstick has an incredible balmy sheen to it, and you can see where the edges of the outer rim are just on the outsides of the swatch. The gold flecks you see in the tube are not reflected on the skin so you needn't worry about glitter everywhere. I think they're mostly for show in the bullet.
The eye gloss comes out as a pale champagne with a hint of rose. There are definitely specs of glitter in there and I'm afraid they did have a tendency to drop onto my cheeks throughout the day.
The blush does have hints of glitter in it in the swatch, but they were not visible on my cheeks at all. The entire cheek looks came across as more shimmery, but not glittery, and really, really pretty.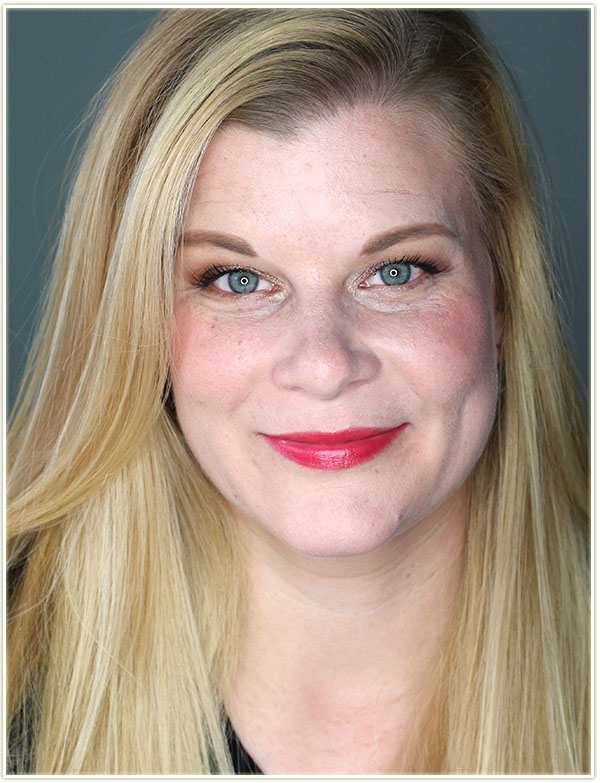 Hands down my favourite item in this bag was the lipstick. The colour is absolutely incredible and the fact that it feels like a balm is wonderful. It has no taste or scent, which is also great for those who are sensitive to scented products.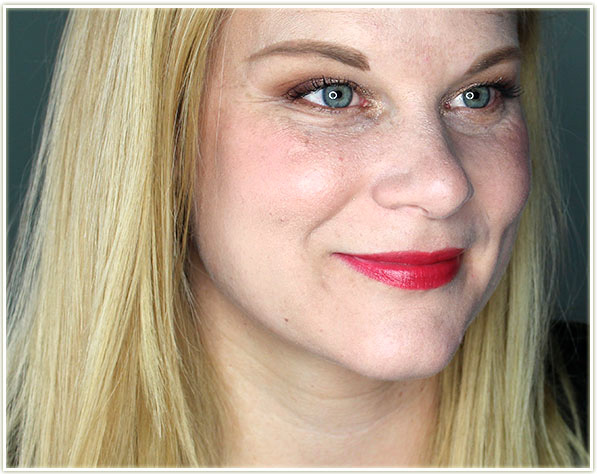 The shimmery blush was also a really nice surprise. It's a beautiful colour and the longevity surprised me since I tend to find shades like this dull throughout the day.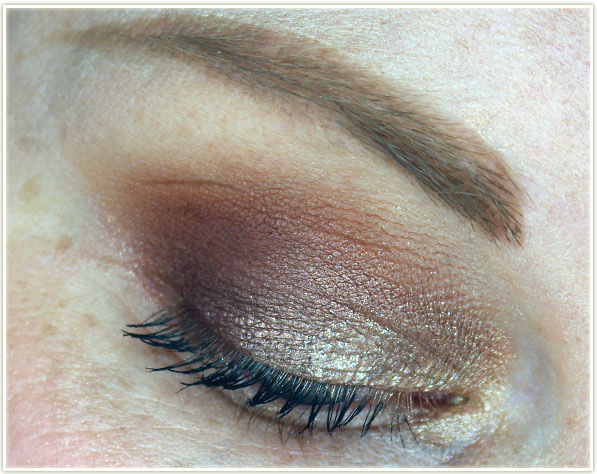 My least favourite item in the makeup bag was the eye gloss, but that's partially because I'm just not the kind of person who wears that type of product. In the shot above I'm wear it on the inner half of my lid.
Final Thoughts
The eye gloss is a pass for me, but the lipstick is incredible and so seasonally appropriate for the cooler months. It's an easy to wear red that feels comfortable – what more could I need during the winter months? (Also, side note, I, for once, did not wear a lip primer with this product and noticed ZERO bleedout. Huzzah!) The blush is also so lovely and one of those easy to wear shades that I expect would look lovely on a wide range of skin tones. The makeup bag is also adorable, because hello… cats! (Even my husband commented on the packaging yesterday… he was like "wait… are those cats??". When I confirmed they were, his immediate response was "this is the best kind of makeup bag". haha!)
The Paul & Joe Beauté Make Up Collection 2017 is limited edition for the holidays and you'll have to wait a little bit to get your hands on it because it won't be available until November! (I had no idea as I started this review that that was the case, so I'm really sorry that you're going to have to wait to get your hands on it!) It retails for $64 CAD and will be available online at beautyboutique.ca or in stores at select Shoppers Drug Marts.
The products featured in this post was sent to me for consideration. Post may contain affiliate links.