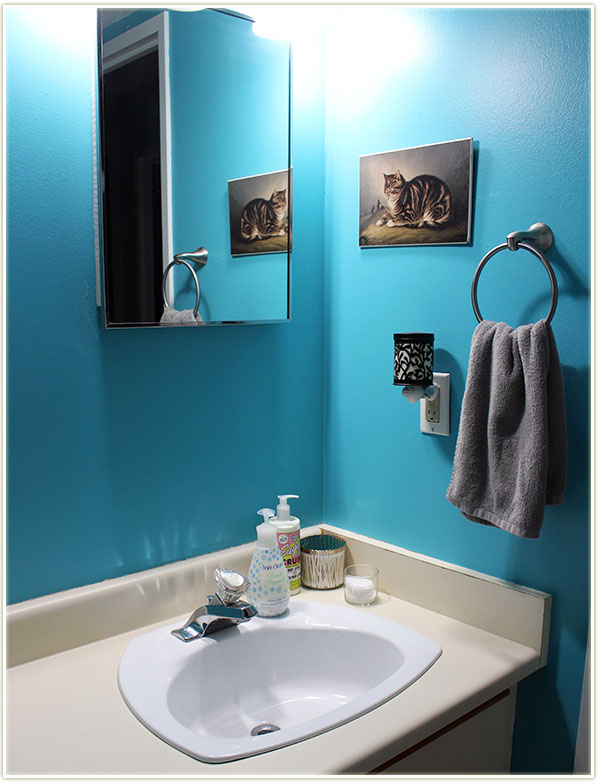 I think we're all a little bit curious as to what products people keep – be it in their bags, showers, makeup collection, etc. – so I thought I'd take you on a quick tour of my two bathrooms and the products I keep on the counters and in the medicine cabinets.
Sidenote: There's a lot of PR products in here and most of them I've reviewed in the past. I'll put a star (*) beside each product that was sent to me so you'll know!
The first bathroom is our guest bathroom and, out of the two we have, it's the one we use the least (which means it stays clean the longest!).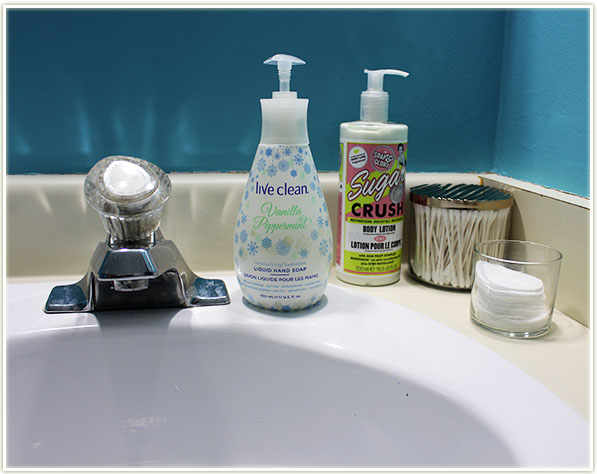 I like the idea of keeping a fairly clean counter in the guest bathroom (our ensuite is much different) so I don't have a ton of stuff on display. Tis the season for Live Clean holiday hand soaps, so I've got their Vanilla Peppermint hand soap* out for use. I also keep the Soap & Glory Sugar Crush Body Lotion* out in case someone is feeling dehydrated and needs a skin boost.
In my opinion, no bathroom is complete without Q-tips and cotton rounds, so those are there as well!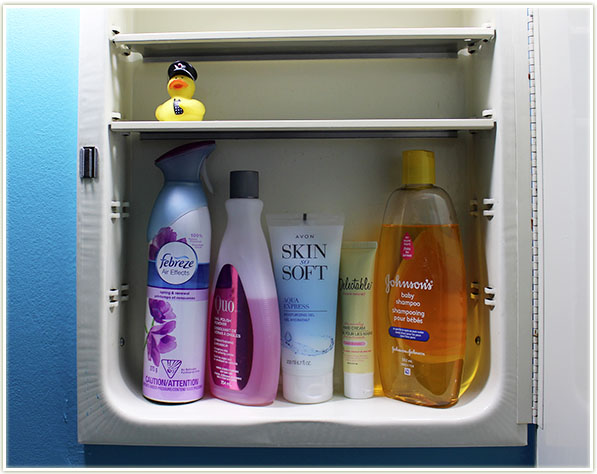 It's a little bit empty inside the mirrored medicine cabinet, but that's fine by me! I've got a handy Febreze in there because no one likes to leave a bathroom feeling ashamed (more specifically… in someone else's house!) and honestly that Febreze is about six years old at this point. Those things last forever!
I've also got some QUO nail polish remover – I always opt for the hydrating ones if I can find them. Some more lotion in there – Avon's Skin So Soft Aqua Express* (love the smell of this one!) and the Be Delectable Hand Cream. Since I also wash my makeup brushes in the guest bathroom, I've also got a huge bottle of Johnson's Baby Shampoo which is my go-to for makeup brush cleaning.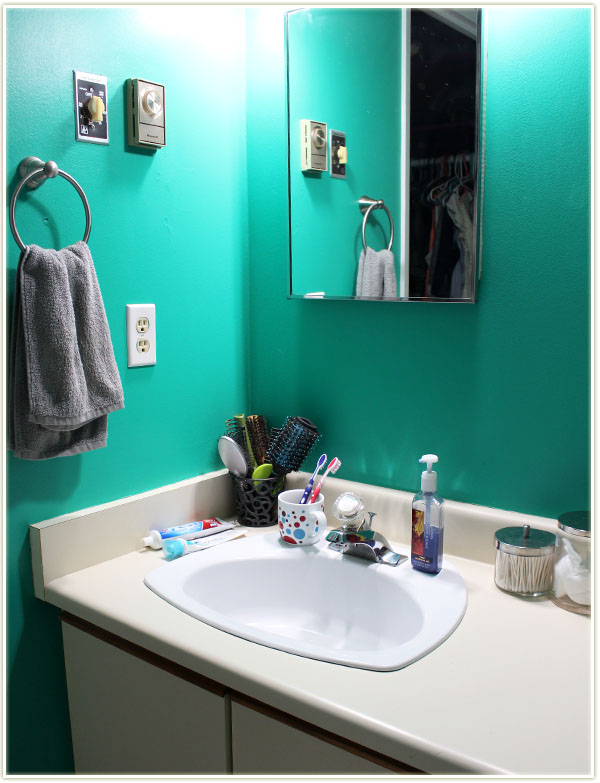 Time to move on to our ensuite and this one is a lot more jam packed with products! Once again with the Q-tips and cotton rounds, but this time I've got a Bath & Body Works hand soap in Crisp Morning Air which is one of my favourite autumnal scents.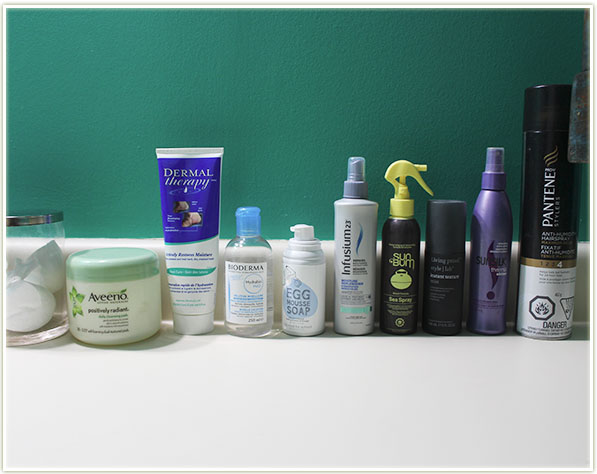 To the right of the sink is a lineup of products that I use daily… or that I try to use up (namely some of the hair stuff).
The Aveeno Positively Radiant Daily Cleansing Pads* are one of my favourite quick face washes. The pads come soaked with face wash and have a textured side so you can really scrub at your face.
Dermal Therapy Heel Care is VITAL to me. I get heel cracks and this is the only product that will heal them.
Bioderma Micelle Solution in Hydrabio* – an absolute daily necessity for me. Helps to clean up my makeup mistakes and great for removing any makeup or oil residue at the end of the day.
Too Cool For School Egg Mousse Soap – I usually wash my face in the shower (where I keep another face wash), but if I'm not showering that day I'll reach for this face wash. It's kinda neat – it foams up like shaving cream, and thankfully does not smell like eggs!
Infusium 23 Leave-in Conditioner*: LOVE this stuff. I was a huge fan of the shampoo and conditioner, but I used those up a while ago. So now I'm finishing up the leave-in conditioner which I spray on my hair when I'm out of the shower. Helps detangle my very-much-in-need-of-a-haircut, far-too-long-hair right now!
Sun Bum Sea Spray* – I love using this during the summer to give me some crunchy, salty beach waves!
Living Proof Instant Texture Mist – Not a huge fan of this one, so I'm trying to use it up. I much prefer the volumizing cream.
Sunsilk Thermashine leave in conditioner: This is actually a bottle of water that I use to wet my hair if I got a kink in it and need to re-style it. I miss Themasilk/Sunsilk though. They were my absolute favourite hair brand through the 90s and 00s.
Pantene hairspray – I'm not fussy when it comes to hairspray so I just buy the biggest can out there and it lasts me forever since I only use it when I curl my hair.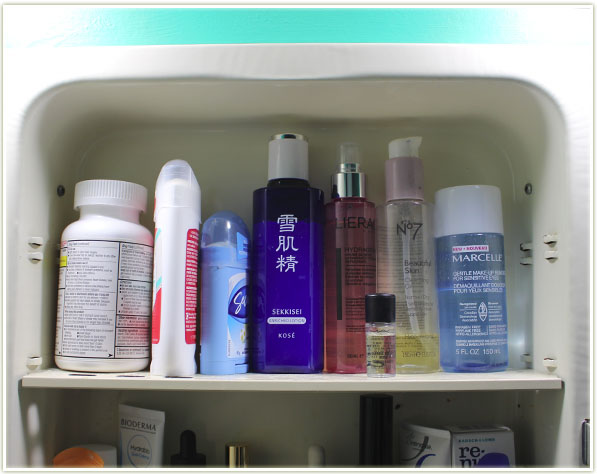 Straight into the medicine chests!  There's a hell of a lot in here, so I'll keep it brief. I'll also only be mentioning the products that are mine (which uh…. is most of them).
Secret Deodorant: Spring Breeze is my favourite scent and I haven't strayed from it in about a decade!
Sekkisei Enriched Lotion*: Using this as my daily toner. It seems fine, but I don't notice much of a difference in my skin. I do like using toners for some reason though.
Lierac Hydragenist Spray*: I don't use this super often, but it's a great hydrating spray when you need an extra boost.
Boots No7 Beautiful Skin Cleansing Oil: It works really well at breaking up makeup, but I do notttt like the smell of it.
Marcelle Gentle Makeup Remover for Sensitive Eyes: The BEST makeup remover in the world, hands down. Been using this for more than ten years and they had better continue to make this throughout my entire lifespan!
MAC Cleansing Oil: Tiny baby sample I got with one of my orders.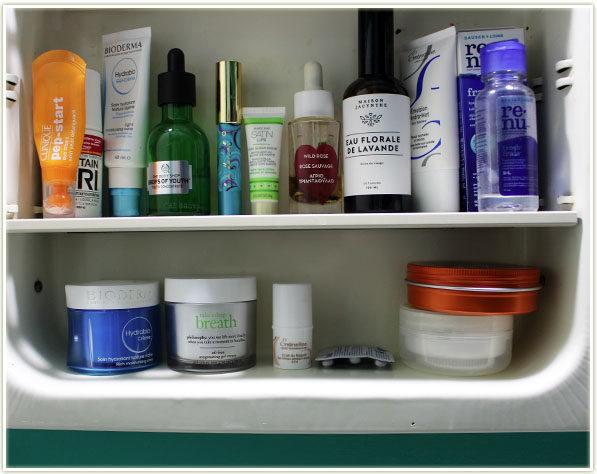 And the last two shelves… phew!
Clinique Pep-Start Eye Cream*: I use it… but I have no idea if it's doing anything like removing wrinkles. It does help to rehydrate my eyes if I've worn makeup too much that day though.
Bioderma Hydrabio Gel-Creme*: Super moisturizing. I tend to put this on on days where I don't wear makeup.
The Body Shop Drops of Youth – Youth Concentrate Serum*: Just trying to use this serum up. It's okay, but it tightens my pores and I'm not a huge fan of that sensation.
tarte Lip Facial* and Mary Kay Satin Lips*: Two lip scrubs I just pulled out but haven't used yet (just finished my Lush one the night before).
Korres Wild Rose Face Oil*: Almost done with this one and I really like it! It's lightweight so you can wear this one throughout the summer as well. I usually apply it a few times a week at night.
Maison Jacynthe Eau Florale de Lavande*: I'm not huge into lavender, but the scent of this is refreshing and soothing. I occasionally mist my face with it in the mornings for a boost.
Embryolisse Emulsion Hydra-Mat*: This stuff is WILD. Super moisturizing but also mattifying. I don't know how that works, but it does!
Bioderma Hydrabio Creme*: Feeling seriously dehydrated? This is the moisturizer for you! I only apply this at night because it's SO thick and does't play well under makeup.
Philosophy Take A Deep Breath*: This is a lovely gel cream that is my current daily moisturizer. It works really well under makeup, smells nice and is hydrating.
Embryolisse Eclat du Regard*: Super buttery eye cream that I've used a handful to times, but will be in full rotation when I finish up the Clinique one
Phew! That's it! When I thought of this idea for a post, I hadn't really stopped to consider just how many products I have in my bathrooms! Hope you liked the quick tour of the products I'm currently using on the daily. 🙂
Post contains affiliate links.