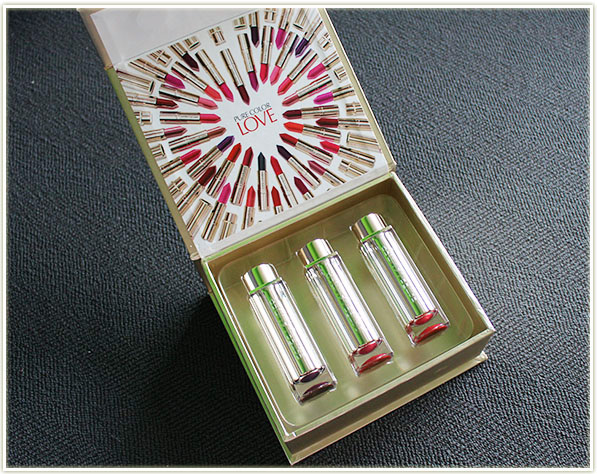 Brand new to Estee Lauder is their 30-colour range of the Pure Color Love lipsticks. Ranging from "ulta mattes to shimmer pearls, cool chromes and edgy cremes", the colour lineup has a blissful diversity that doesn't seem too heavy in any area. There are loads of nudes, heaps of brights, and plenty of deep shades.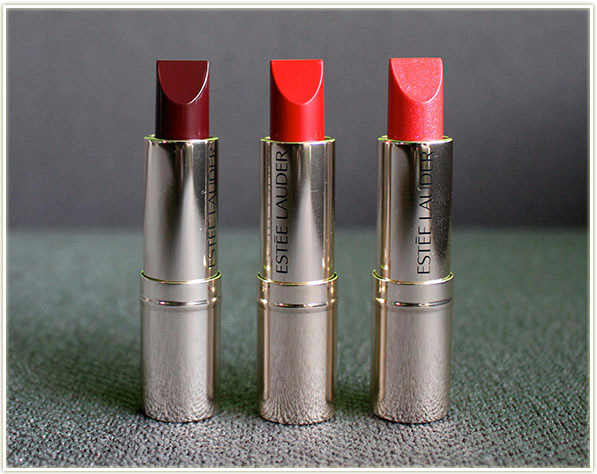 Perhaps the most bizarre thing about this range is the shape of the lipstick bullet. I don't even know what to call it – chisel edge point? X-acto knife? Like what the heck even is that? It comes to a sharp point as both sides are exactly identical – a steep vertical slant to the end of the lipstick bullet. One thing's for sure – I don't like the shape. Sure, it's edgy, unique, whatever the heck else you want to call it, but it's not for me. I'm currently trying to wear the lipstick down in the shape *I* want. Which means a heck of a lot of wear on one side of it – and yet I can never remember which size I'm wearing it down! ARGH!
Weird shape aside, the lipsticks themselves are quite lovely – which is really the whole point of the product now isn't it? The packaging is a pull out tube with a lovely satisfying snap closure. It's a weighty product, which to me has always meant luxury.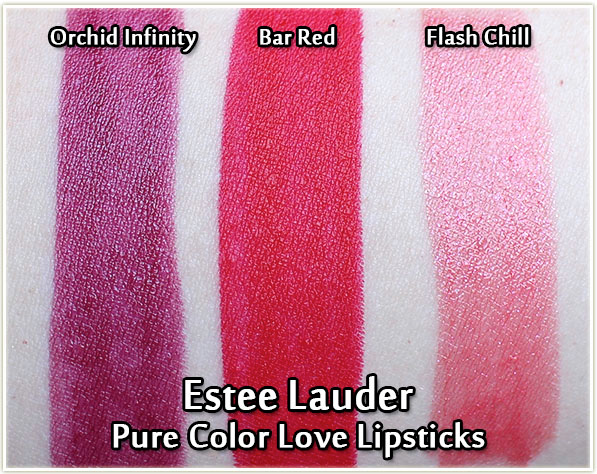 I was gifted an interesting variety of shades at the Pure Color Love launch event:
Orchid Infinity – an edgy cream
Bar Red – an ultra matte
Flash Chill – a shimmer pearl
The colours were pre-selected for us, but I like how they approached the selection as it gave me the chance to try out a variety of finishes.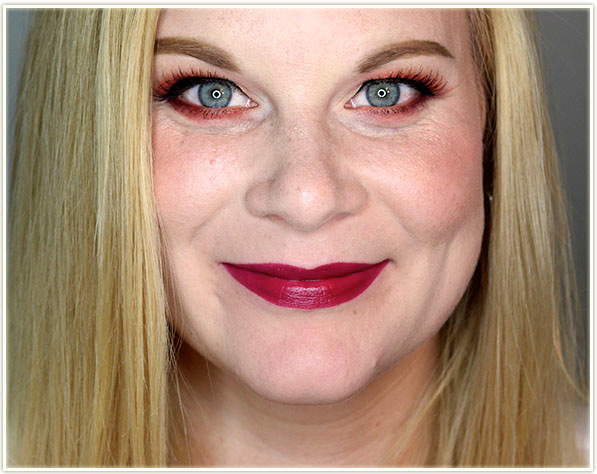 Of the three I tried, Orchid Infinity, the edgy cream, was the shade I had the most issues with. It required a few layers to get opaque coverage, however it whenever it wore away, it melted away on my lips nicely – no nasty edge that looks like you applied lip liner wrong (and heavily). The formula was smooth and creamy – almost slippery.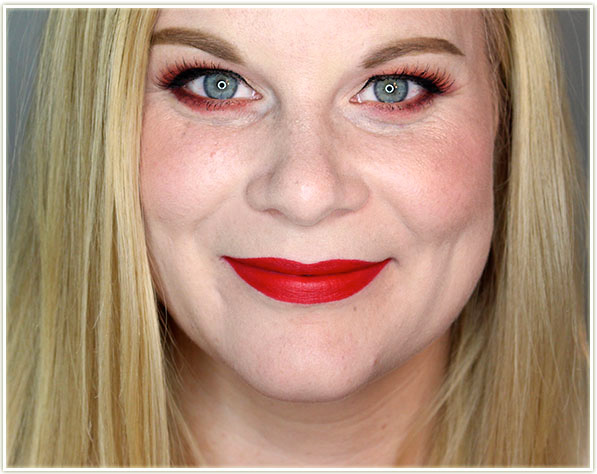 Bar Red, an ultra matte, was my favourite out of the three in this post. Although pegged as an ultra matte, this was not drying on my lips. It went on smoothly – albeit stiffly at first since I had to break through that initial layer (why are mattes like this?) – and afterwards it was smooth to apply. Pigmentation was on point and it such's a glorious colour – your true red, or "Christmas red" as I tend to think of shades like this. This shade and formula can do no wrong as far as I'm concerned.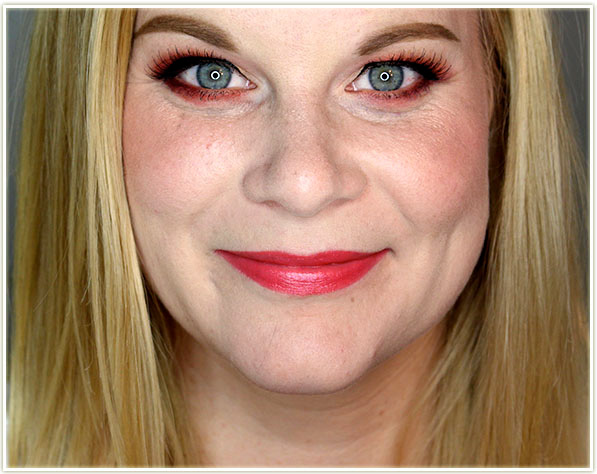 Flash Chill was the last shade I tried and the one I was the least interested in. But isn't that the way it always goes before we discover a new shade that we suddenly love? Granted, Flash Chill looks very similar on my lips to plenty of coral shades I've been in love with over the years, but in the bullet I wasn't convinced it would come out this nicely. I stand corrected however and Flash Chill is gorrrrgeous! It's a peach that turns coral on my lips with some gold flecks of glitter splashed in for good measure. The glitter isn't gritty, but it will stick to your lips a little longer than the lipstick will, so re-application will be necessary. (Which is fine – layering with all three of these lipsticks was absolutely fine and caused no issues.)
Final Thoughts
In order of finish preference for the Estee Lauder Pure Color Love Lipsticks, the ultra matte was by far my favourite. Super comfortable to wear and gorgeous pigmentation. Second was the shimmer pearl – it's a lot of fun and there's a glimmer of sparkle in the partial translucency of the colour. The cream was sadly my least favourite, but I think it may be partially because of the colour. Purples are a bastard in the makeup world, and this colour did suffer from some patchiness. That being said, the texture and feel of it was really, really nice, so you may fare better with a less volatile pigment.
In short, yes – I'd absolutely recommend these!
The Estee Lauder Pure Color Love Lipsticks are available exclusively in Canada via www.beautyboutique.ca where they retail for… actually I can't tell you. This is really bizarre – I'm positive they're available on www.beautyboutique.ca but the entire domain seems to be blocked in Australia (where I'm currently writing this post). Not sure why that is!