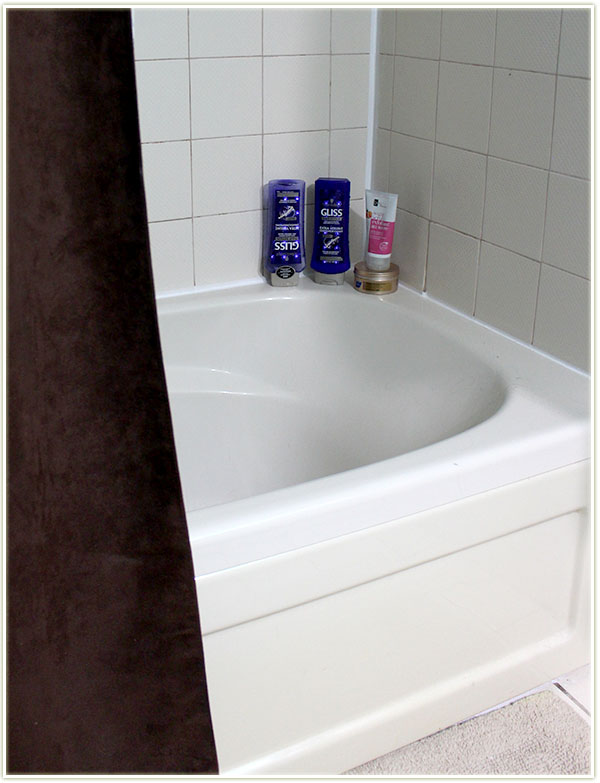 Last weekend I showed you what's on the counters and in my medicine cabinets in my bathrooms, and this week I thought I'd show you what I'm actually using right now on the daily in my shower!
Being a beauty blogger means that, above anything else, skincare is the thing that PR companies try to send you the most. As a result, it can mean having a huge backlog of items you want to get through, which is usually held up by the fact that we're always in the midst of trying something out in order to review it. This is one of those rare occasions where I've turned down enough skincare over the last few months so that I can play catch up and finish up some products that were already in my stash just waiting to get used up! Because honestly, finishing up a product is really very, very satisfying!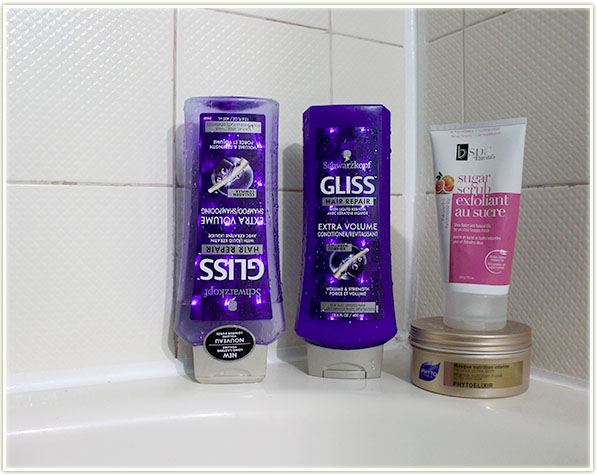 Starting you off with some hair stuff, I've got the Gliss Hair Repair Extra Volume shampoo* and conditioner*. While this is supposed to give me more volume, my hair is so stupidly long right now that I don't notice much of an impact. That being said, this is a perfectly serviceable set of shampoo and conditioner and I have enjoyed using them quite a bit. I did use up the Gliss Hair Repair with Liquid Keratin* set previously though, and if I had to choose between the two, I'd definitely opt for the Liquid Keratin one instead (comes in a black bottle with gold writing) as that one worked absolute wonders on my hair.
About once a week I'll do a hair mask and lately I've been using the Phyto Phytoelixir Intense Nutrition Mask*. It's intended for ultra dry hair, which isn't necessarily me, but I do like the infusion of nutrients into my hair once a week since I am a daily hair washer.
And since it sits nicely on the hair mask, I've got a body scrub over on this side of the shower as well. As with the hair mask, about once a week I'll use a body scrub and I've been working my way through the BVSpa Sugar Scrub in Pink Grapefruit*. Great scent and helps to slough off any dead skin.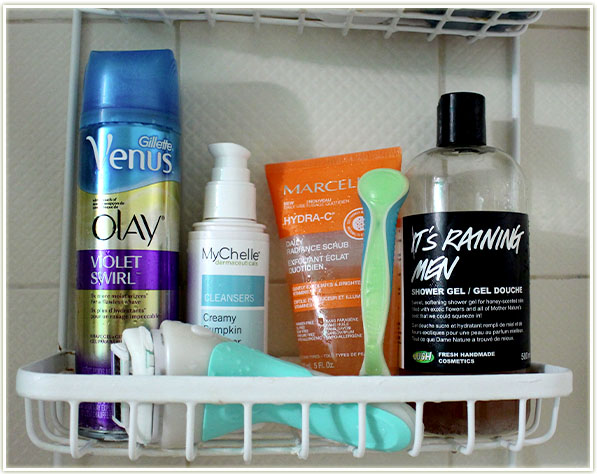 The bottom half of the shower caddy is my section (David's area is above since he's taller) and I've got it stuffed with the products I use most in the shower. (Not pictured, a bar of Mary Kay Into The Garden soap* that's lounging on the corner of the tub.)
I'm a bit fussy with shaving, so I've got a few items in here for that purpose. I prefer to shave my legs with the Schick Intuition Razor just because it's SO EASY. I started using this razor in my 20s because my friend Alison tried it out and loved it, so I hopped on the bandwagon. Not having to lather up my legs with shaving cream before shaving them is glorious. The layer around the razor acts as the shaving cream and saves me so much time in the mornings. You will notice that you go through these a bit quickly and they are more expensive than using a regular razor with shaving cream, but for me the time savings is huge. That being said, I hate how the Intuition razor feels on my underarms (makes them itchy for whatever reason), so I stick to my Gillette Venus shaving gel (Violet Swirl here) and a Gillette Venus Razor for those areas. (Also great for the bikini line area and anywhere else downunder.) Since I am a natural blonde (yes, it's true – I don't dye my hair), I don't actually have to shave all that often – maybe once a week for my legs and twice for my underarms.
Shaving details aside, I've got two face washes in here: the MyChelle Creamy Pumpkin Cleanser* and Marcelle Hydra-C Daily Radiance Scrub. The MyChelle pumpkin cleanser is to die for – it smells like a pumpkin spice latte in a face wash and I *love* using it in the fall! The Marcelle scrub is one I'll use once a week on my face and sadly it does not smell like oranges – which is what I had been expecting from the tube! It's an okay scrub, but I feel like it could use a lot more scrubby particles in the formula.
I've left my favourite till last: the Lush It's Raining Men shower gel. Of all the shower gels I have tried in my life, this is hands down my absolute favourite scent. It's a honey-caramel scent explosion in your nose! It leaves my skin feeling soft and wonderfully scented with those honey and caramel tones. My husband actually bought this bottle for me last year for Christmas and I'm only just now getting to use it (see, I told you the backlog of trying out products is intense) and I could not be happier. Love, love, love!
So that's everything that's in my current shower rotation – hope you liked seeing this slice of my daily life!
This post contains a mix of items that were sent to me for consideration as well as some purchased items. Items that were sent are marked with an asterisk. Some links are affiliate links.