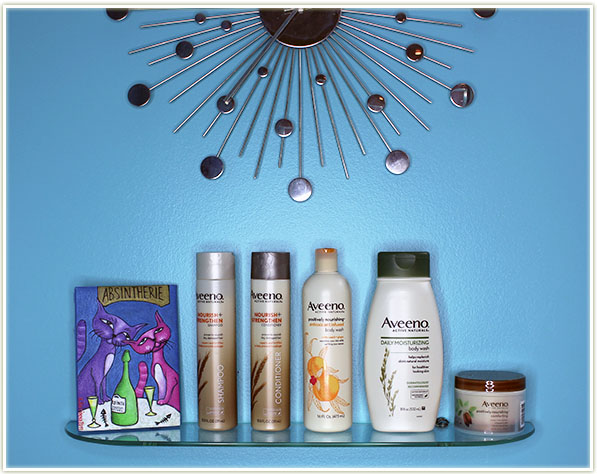 This post is sponsored by iHerb.
Aveeno is always a failsafe brand for me, so it's no surprise that their products are constantly in rotation in my bathrooms. Whether I'm using a toner, applying a moisturizer, washing my face or having a shower, it's safe to say that Aveeno is involved *somewhere* in my routine year 'round!
I'll be focusing on an Aveeno–specific shower routine for today's post so you get an idea of what products I love from them. On this particular day, I happened to have come back from running a half marathon, so I was not only weary, but also in desperate need to use products that I was supremely comfortable with (because running 21.1 kilometers is not only physically stressful, but emotionally as well!).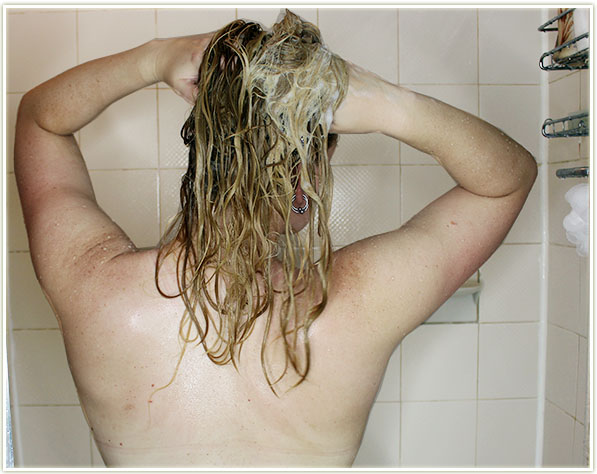 After hopping in the shower and letting the hot water warm up my body and soothe the aches of running long distance, the first thing I do is soak my hair and plop on some shampoo, suds it up, rinse it out and apply some conditioner. While I don't have fragile hair in general, I still wash my hair daily so I prefer something with a strengthener in it which is what the Aveeno Nourish + Strengthen range provides. Both the shampoo and conditioner work in tandem to make sure my hair is strong and can hold us to heat styling on the regular.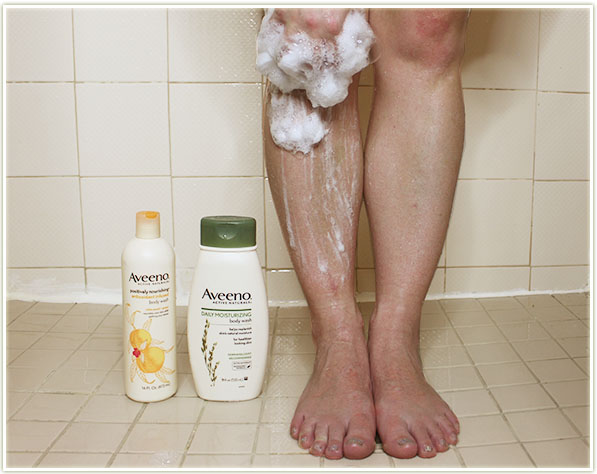 My favourite part of showering is getting super clean and scrubbing away any of the grime and sweat from my day. And of course, having run for 2+ hours, I was super salty and sweaty so I was extra desperate to get all fresh and clean. Aveeno has more than a few body washes, but I've been rotating between the Daily Moisturizing Body Wash and the Positively Nourishing White Peach and Ginger Body Wash. While I love the White Peach and Ginger for a revitalizing scent boost (which is especially good in the mornings!), on this day I was needing something to soothe my senses so I opted for the Moisturizing Body Wash. Both body washes lather up well with a poof and smell wonderful on my skin.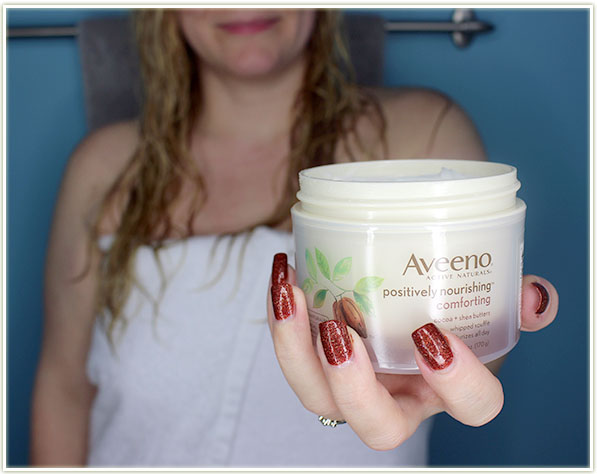 Once out of the shower, it's time to put some moisture back in my skin that has potentially been scrubbed away. Aveeno's Positively Nourishing Comforting Whipped Souffle moisturizer packs a hell of a moisturizing punch for my skin. Not only does it feel great but it also sinks in quickly which means I'm not fighting to pull on my clothes after my shower. You know that feeling… super sticky greased up moisturizer skin trying to pull on pants? Yeah, it's not fun, and thankfully there's none of that with this one!
I ordered these Aveeno products via iHerb – both shipping and delivery were quick and efficient. They send out your order the day of! And that's not just on products I've ordered via sponsored posts either – I've ordered products that I needed outside of posts like this and the shipping notices have gone out without hours of me placing an order. That's easily one of the things I appreciate most about iHerb – fast shipping alongside low prices!
iHerb in particular carries over 80 Aveeno products (see some of the other ones they carry in this previous Aveeno-centric post of mine) and they can ship to over 160 countries. They also have customer support in 10 different languages as well.
If you're a new customer to iHerb, you can get $5 off your Aveeno order of $20 or more by signing up here!