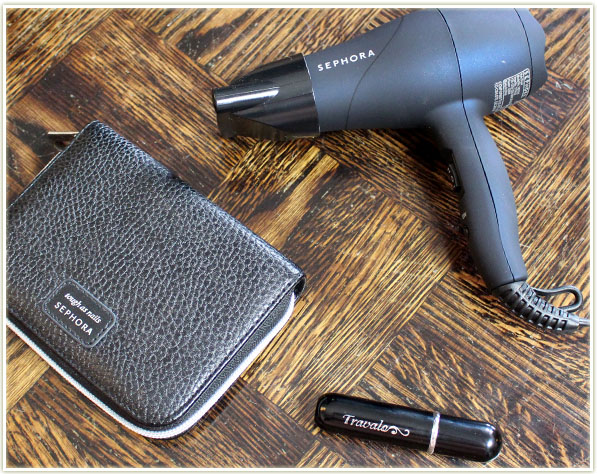 I know summer is the time when a lot of people travel – they go abroad, they go to hot destinations (which I've never understood personally – Toronto is freaking hot enough during the summer, I don't need to add MORE degrees on the thermometer thanks!), etc. But for me, the spring and fall seasons are when *I* like to travel. I feel like it's a more comfortable temperature and I can do a wider variety of things. So these products are all the reasonable things I bring or WISH I had brought (we'll get to that in a moment) with me while travelling.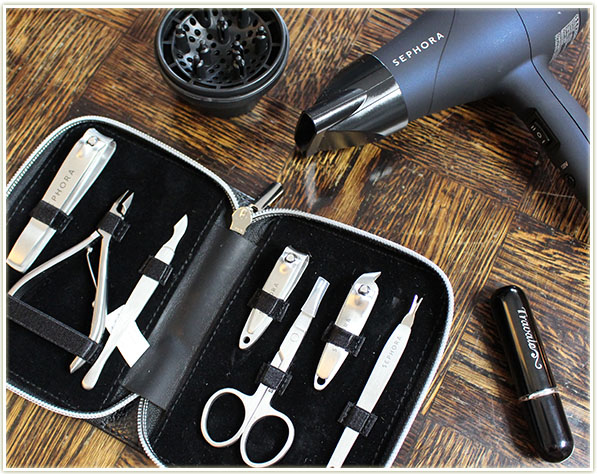 The Random Basics I NEVER Remember To Bring (But Should!)
Alright, first up, one of the things I struggle with the most is a hair dryer and flat iron in European countries. I actually FRIED not only my flat iron, but also my hair on my most recent trip to Iceland back in April because the stupid flat iron decided to turn to inferno levels of heat even while plugged into the massive converter. While I still haven't been able to find an easily accessible dual voltage flat iron for this post, I gotta tell you guys – GO  GET ONE. It'll save you the heartache of your burnt ass hair (which I'm still dealing with!). On the plus side, I did find an amazing dual voltage mini blow dryer by Sephora. It's $33 CAD on their web site and it has a knob that you turn that changes the voltage. You'll still need a plug converter, but at least you don't run the risk of lighting the place on fire (always a bonus). Despite what their web site shows, this blow dryer is TINY, but it packs one hell of a punch!
Also randomly handy? A trousse of nail tools (also by Sephora). I was sent this product in a PR box and not being a nail person I thought nothing of it. And then, for some unknown reason, I threw it in our luggage for Iceland and it turned out to be handiest thing EVER. Snag or break a nail? Need a random string cut off your shirt? Sharp implement needed for some other unknown reason? This kit has you covered. It also zips up compactly so you're not left digging for tools at the bottom of your bag. Goes for $25 CAD at Sephora!
And lastly, we have the incredibly Travalo that people have been talking about for years… with good reason. This mini atomizer is perfect for decanting your favourite perfume into its tiny body for travel. You pop the top off your perfume bottle, slot the bottom of the Travalo onto it and pump it until it fills up with your desired scent. No more carrying around enormous clunky (albeit pretty, if not ridiculously extravagant) bottles of perfume with you on vacation! I find Travalos at my local drugstore in the $5-8 price range.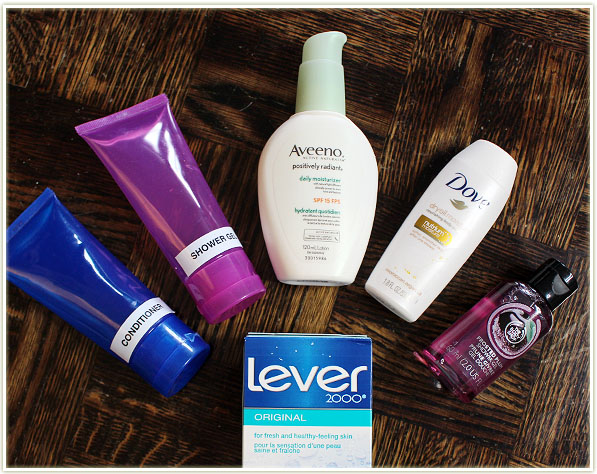 The Stuff That Keeps You From Smelling Like a Wilde-beast
If I can get all of my products into a squeezy tube or pump bottle container, I'm a happy camper. I pick up colourful empty squeeze tubes from the drugstore (NOT the bottle kinds!) and dump in my currently being used shampoo, conditioner and shower gel. Or, if you have them on hand, grab those tiny freebie samples you get at drugstores and/or holiday minis!
If you don't want to cart a bunch of minis around with you for body wash, another alternative is to grab a new bar of your favourite soap and treat it as a disposable. More often than not, I'll bring a brand new bar of soap with me on vacation and I'll use whatever I can while I'm there, and then just junk it afterwards. Bars of soap aren't expensive, so you don't feel like you're leaving a pricey product behind AND you don't have to bring anything back with you! My favourite bar soap is always going to be Lever 2000 and I've been using it since my teens.
Moisturizer with sunscreen is an easy one for those who are going to be outside often. I'm not always a fan of sunscreen in my moisturizer if I'm playing sports, but for day to day wear, Aveeno's Daily Moisturizers are a must have. The pump top also comes with a swivel so you can lock it off – saves worrying about spillage in you bag later on.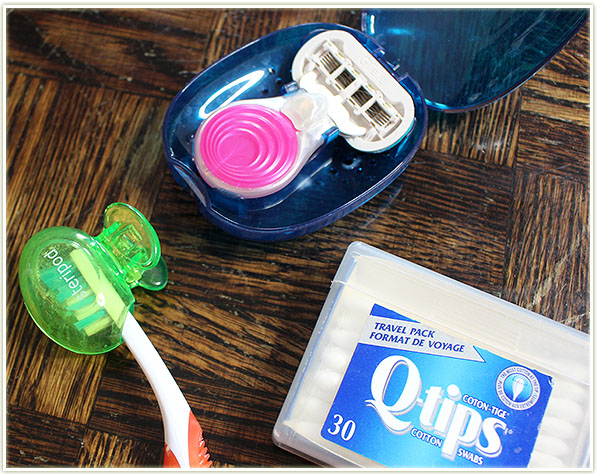 The Random Bits and Bobs
You will not catch me on vacation without Q-tips. And yes, I use the brand name because I feel like the cardboard wand is just that must sturdier than other brands I've used in the past. This small travel pack was swiped from my mother's cabinet when I moved out of the house when I was 19 years old and I've held on to it for dear life ever since. This little baby has travelled everywhere with me! Long live the Q-tip!
I use Gillette's Venus razor on the regular, so I was SUPER happy to find the tiny Venus Snap version a few years back at the drugstore on clearance for a couple bucks. I don't know why more people don't talk about and/or use this tiny little razor. It fits the regular Gillette heads and it comes with its own carrying case that has little whole to help ventilate the razor. It's small, compact and sturdy. If you see this – just buy it, you won't regret it. I also skip on shave cream while on vacation and just use my conditioner since it works just as well as any shaving cream I've every tried!
I've long hated the toothbrush travel tubes where the top always seems to come off the base, so I was really happy when I was sent a Steripod last year and I've continued to buy and use them ever since. It's a small clip on disinfectant/protectant clasp for the head of your toothbrush and I *love* it.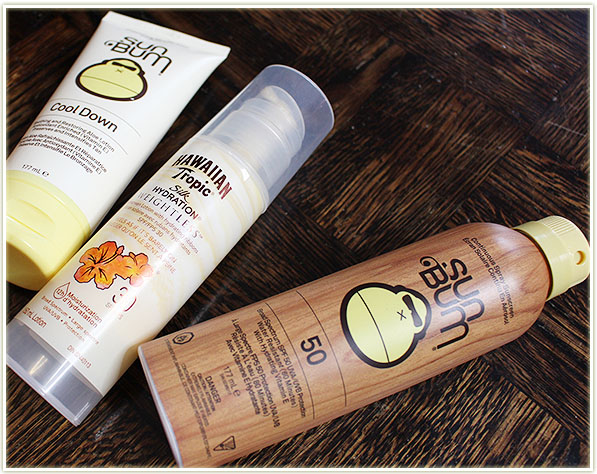 The Sun Protection
If you're going anywhere hot, for the love of god, bring some sunscreen with you. I've been blazing through my Sun Bum and Hawaiian Tropic sunscreens this summer so they're at the forefront of my thoughts. I've also thrown in the Sun Bum Cool Down lotion in there because if you do happen to catch too much sun, this product had the HIGHEST concentration of aloe in it, even when I compared it to my green aloe gels!
And I *think* that covers it all. Just for fun, tell me in the comments the one item you wish you had brought on your most recent vacation, but didn't!
Since I know everyone's always curious what was and was not sent to someone for a roundup post, here are the items that were sent to me for consideration: Sun Bum & Hawaiian Tropic, Steripod, Travalo & the Sephora items.