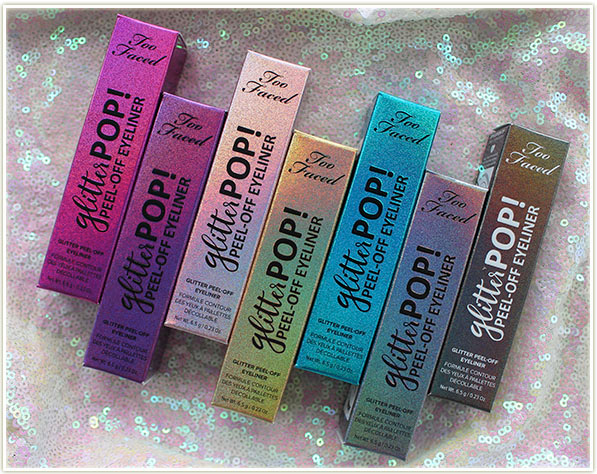 Too Faced *AND* glitter?? You know my interest was piqued!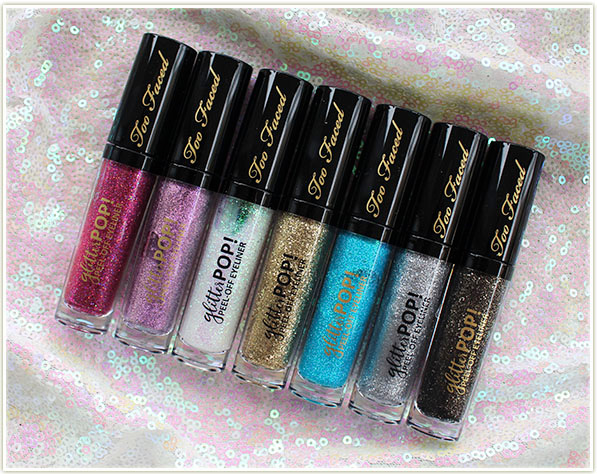 Just this past month Too Faced launched their Glitter Pop! Peel-Off Eyeliners and I was intrigued. I play with a lot of glitter, so I'm always interested to see new ways to apply it to my face! These Glitter Pop! liners promise to peel away without leaving glitter flecks anywhere. That's one hell of a bold claim since glitter is infamous for getting EVERYWHERE!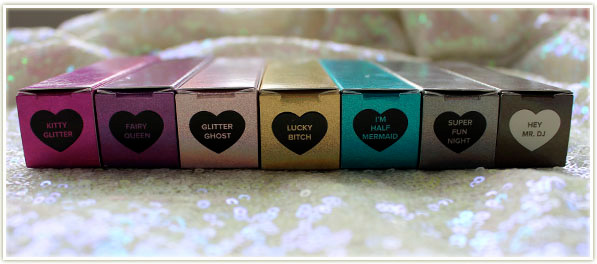 There are eight shades in the range and I have seven of them – I'm only missing the rose-gold shade (which looks more copper to be honest). They come with 6.5 grams of product, which may not sound like much, but these tubes are enormous for an eyeliner!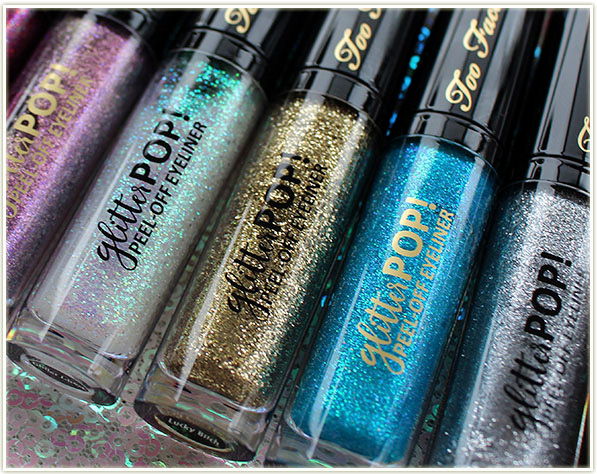 The Glitter Pop! liner is your standard brush tip applicator that you dip into the pot of glittery goodness. For the most part the glitters are suspended in a clear base, however some of them do have a coloured base which helps to amplify the colour. (Fairy Queen, I'm Half Mermaid and Hey Mr. DJ have tinted colour bases.)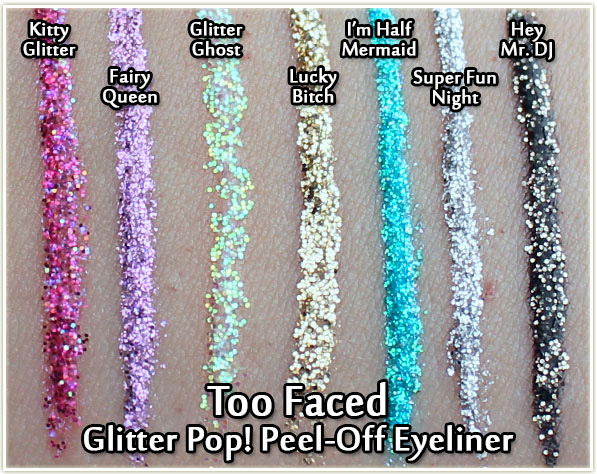 Swatched out you can see just how much glitter is jam packed into these liners. One of my problems with glitter liners over the years has been when there's too much base and not enough glitter particles. This usually leaves you with a fairly patchy application AND means you need to apply about twenty coats to get opaque coverage. The Too Faced Glitter Pop! liners are more of a two-coat wonder. You could get away with a single coat, but two really solidifies the colour output on your eyes. The brand suggests using three coats, which I think has to do with the peel off aspect.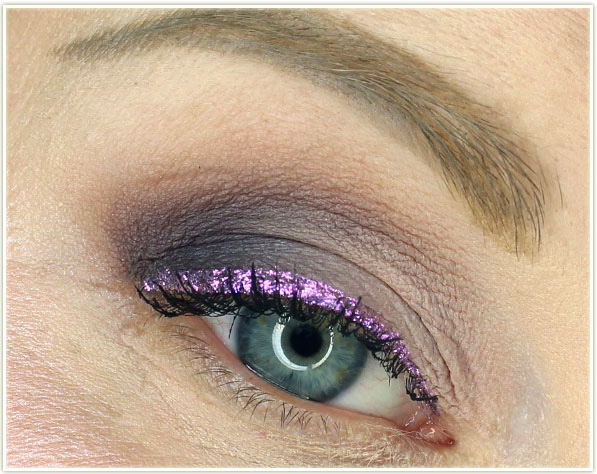 The first time I tried the Glitter Pop! liner, I went in with Fairy Queen – an absolutely beautiful purple. At Too Faced's recommendation, I went in with three coats. I was pleased with how fast it dried and how much glitter was jampacked into the tube. It made for really easy application that wasn't spotty. I noticed a little bit of a tugging sensation on the inner corner of my eyelid – which I can only assume is the "glue" drying and holding the liner in place – but aside from that it was comfortable to wear! I wore this one through a movie (we went to see Blade Runner 2049) and it lasted the whole time.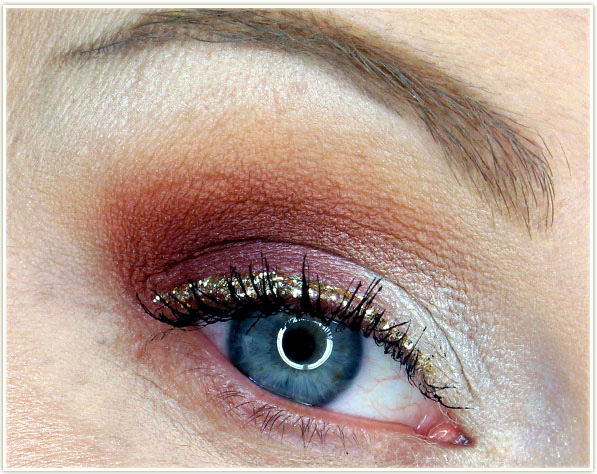 I used Lucky Bitch on my next trial run – this time to work! I had heard a few people complaining that the liner pops off without warning, so I really wanted to put it to the test by wearing it for 9-10 hours. For me, there wasn't a single issue! The glitter didn't peel off prematurely and looked beautiful all day long. And, as promised, there is zero fall out!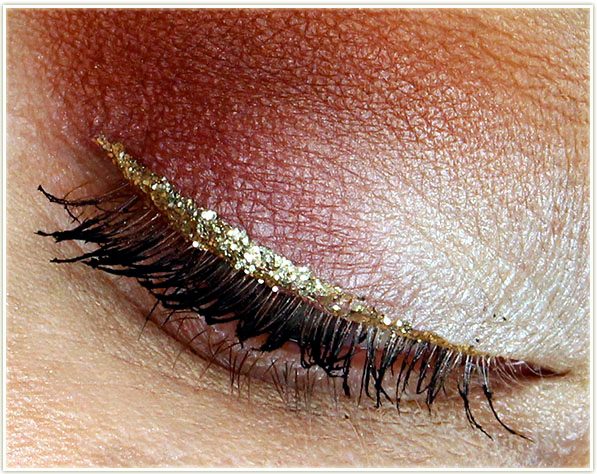 Here's a closer up shot so you can see just how beautiful the glitter particles are. They're layered on top of each other but still manage to retain that chunky glittery aspect.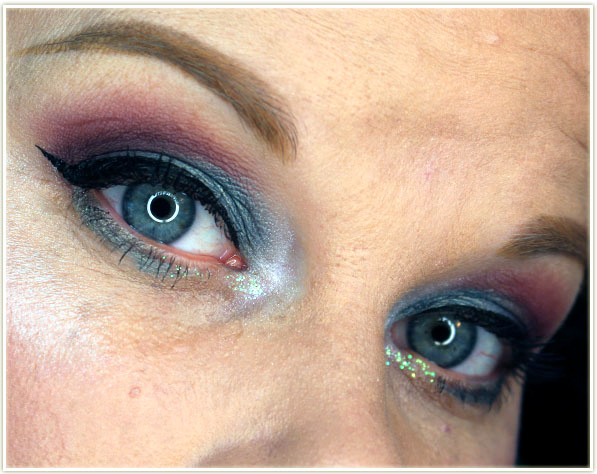 I opted for Glitter Ghost the third time and decided to try a different placement. I really like the look of glitter on the inner corner of my eye, so that's where it went. Sadly, this didn't work out for me as well as it did on the upper lash line. I feel like maybe the inner corner of your eye is too flexible, because the glitter liner started to lift up on the inner corner within about thirty minutes and I had to just pull the whole thing off for my workday because it was looking too patchy. But that's the beauty of these liners – don't like how it looks? Peel it right off and try again! No harm, no foul.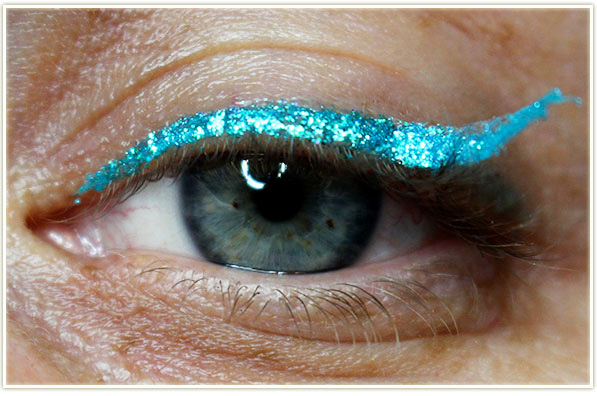 And speaking of peel off – here's how it looks. I did three coats of I'm Half Mermaid and tried to show you just how easily this liner pulls up when you want it to. I slide the edge of my fingernail (you could also use tweezers) underneath the outside edge, lift it up, and start peeling it away. It's so simple, and so freaking easy.
Final Thoughts
If you're looking for a glitter liner with 100% ZERO fallout, then the Too Faced Glitter Pop! Peel-Off Eyeliners are definitely for you. The base that these are suspended in acts like a glue and gels everything together so that you needn't worry about stray glitter particles. In my past experiences, no amount of glitter glue have ever managed to hold ALL of the glitter particles in place, so this was extremely impressive to me.
As I said in the review, it didn't really work out for me on the inner corner of my eye. If you were going to wear it that way, I'd suggest applying the lightest layer you can with as little base as you can. I think the glue aspect of the glitter base is flexible enough for your eyelid, but not so much on the inner corner – which, for me – is a very curved-in area.
The peel off aspect of these liners is absolutely unreal. They really do come off in one solid peel which is *ever* so satisfying! You don't need to peel them off to remove them though – you can also use an oil-based remover and they come right off as well.
In short – these are great! Beautiful colours, easy to apply and jam-packed with glitter. I love that the base of the eyeliner holds the glitter in place and it doesn't come off on my eyes before I want it to.
The Too Faced Glitter Pop! Peel-Off Eyeliners can be purchased at sephora.ca for $24 CAD each or on sephora.com for $20 USD each. These are marked as a limited edition item, so I have no idea how long they'll be around!
The products featured in this post were sent to me for consideration. This post contains affiliate links.