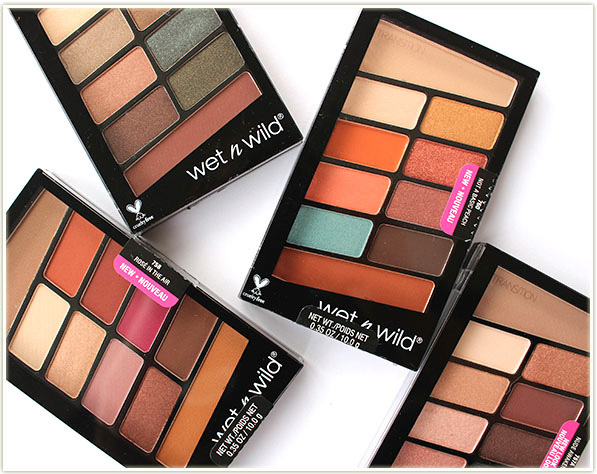 Wet n Wild is one of those brands that, had you told me in the 90s, I would love in my 20s and 30s, I probably would've scoffed at you profusely. I very clearly remember buying a horrid pink lipstick that was basically the equivalent of a greasepaint stick in balm format when I was 12 years old and figuring that lipstick just wasn't for me because of that ridiculous texture (of course, I had no concept of higher end makeup at the time either).
Fast forward to 2010 and Wet n Wild has rapidly become one of my most trusted drugstore brands. Their Photofocus foundation? Love it. Their Megalast Lipsticks? Love them. Their eyeshadow palettes? ALSO AMAZING! Their palettes were already so good that I was surprised that they decided to re-release and reformulate them.
BUT HOLY FRIGGING HELL YOU GUYS. It was worth the reformulation and the re-release because these are incredible!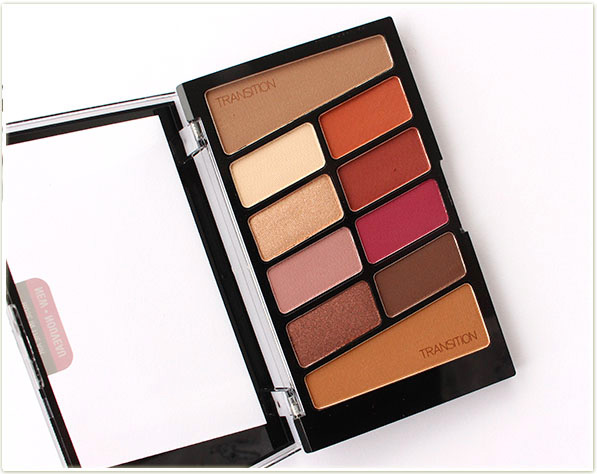 Let's start this off with a bang! With their relaunch, Wet n Wild has gone from an 8-pan format, to a 10-pan one, and with this change they've brought us some wonderfully needed transition shades. Rosé in the Air is the one I see most people talking about since it's a dupe for the Anastasia Beverly Hills Modern Renaissance palette.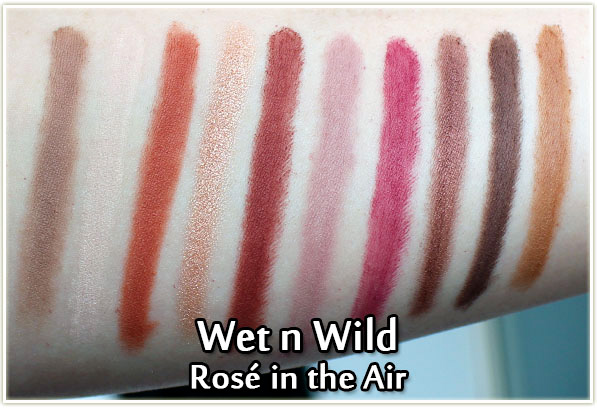 Pigmentation on the Rosé in the Air palette is incredible – smooth, soft, tons of colour and easy to apply.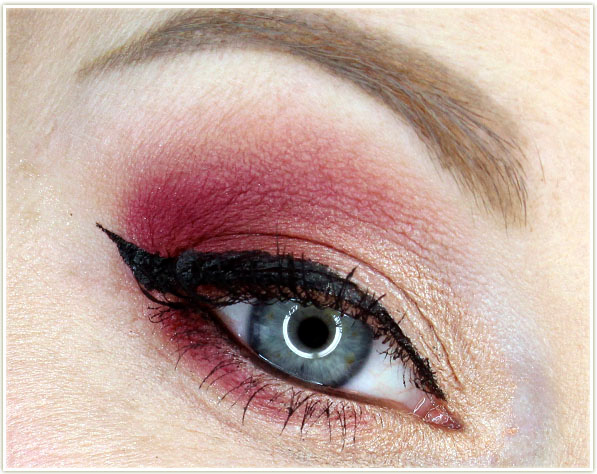 And on the eyes, it's no different! Colour packed on just as easily as they did for swatches and blended out perfectly!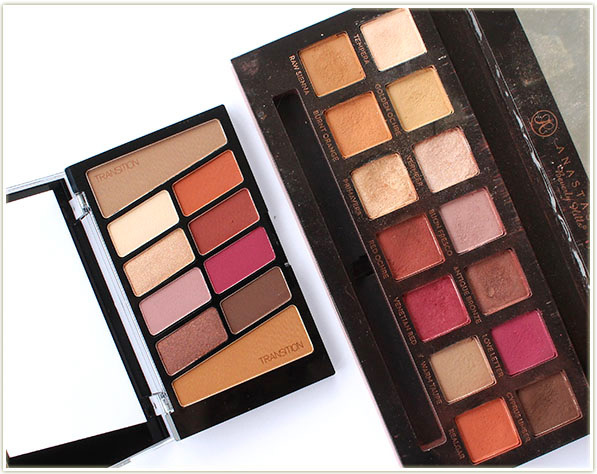 Samantha Jane was the first person I know of to point out the similarities between the new Rosé in the Air palette and ABH's Modern Renaissance palette. In the pan, they're uncannily similar. And in swatches?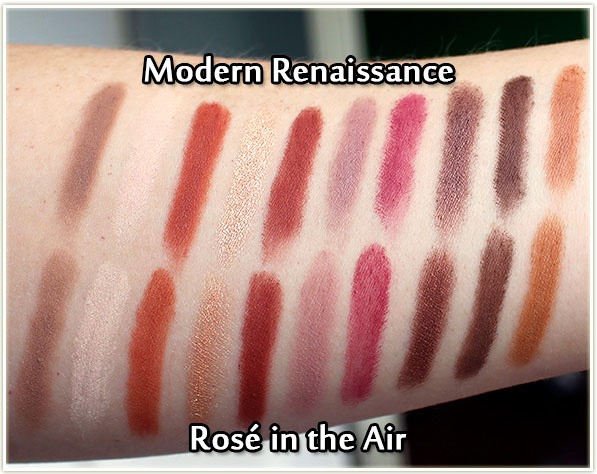 Uh. Hi. Yes. Dead freaking dupe! Granted, the ABH palette does have four more shadows than the Wet n Wild one, but the general essence of the palette is absolutely there. It can definitely be said that the ABH shadows are smoother and creamier, but considering the $37 USD difference… well… you can decide where you'd like to put your money!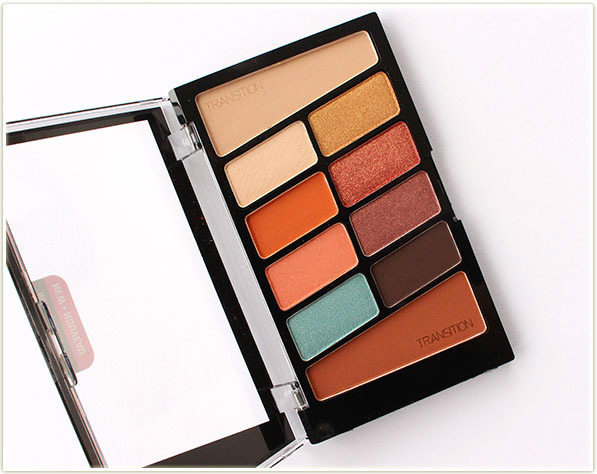 Although everyone is super excited about the Rosé in the Air palette, my favourite one is definitely this beautiful specimen! This is the Not A Basic Peach palette and it's so visually appealing to me that it makes me sigh in pleasure. Warm, peachy tones with a shot of blue, a vibrant orange-gold and a raspberry shade that reflects gold??? I am allllll in for this one!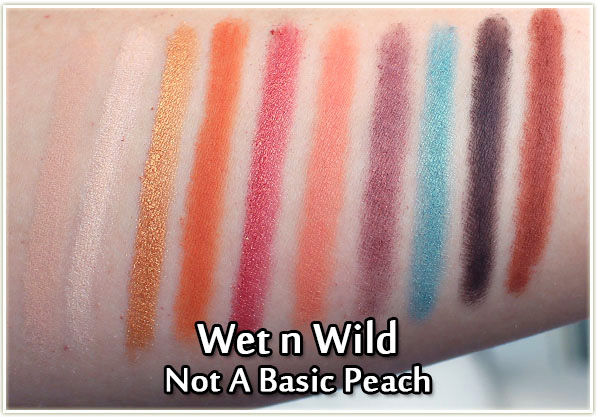 Even the brow bone and transition shades are incredibly pigmented! This is the kind of palette where every time you swatch it, you're taken aback by just how good it is.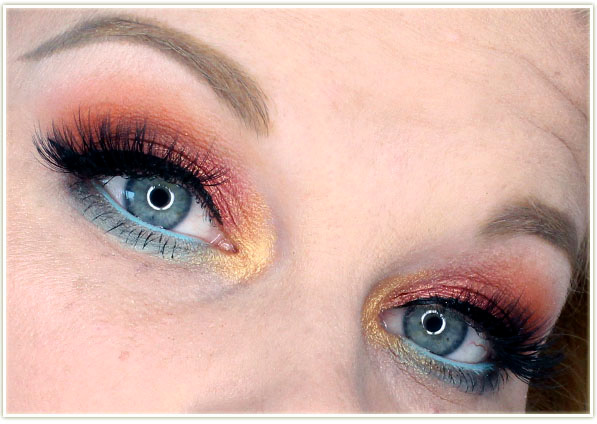 Out of this whole post, this was my favourite eye look that I created. The Not A Basic Peach palette speaks to me on a whole 'nother level. I am so, SO glad they created this one!!!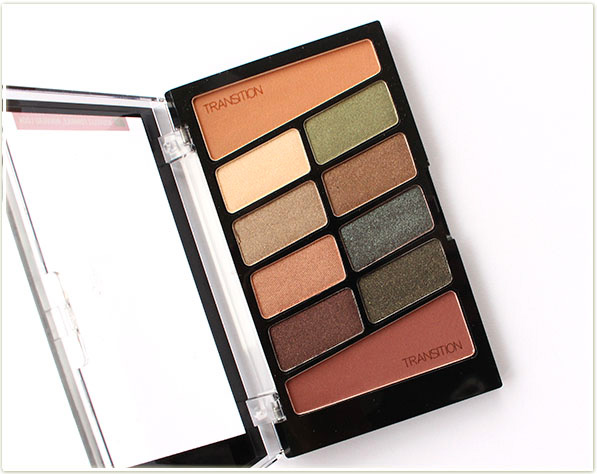 With their revamp, Wet n Wild also relaunched one of their olduns – Comfort Zone. While the original Comfort Zone palette had always been an excellent palette, it really lacked in shadows that would help you make a cohesive eye look: namely – transition shades.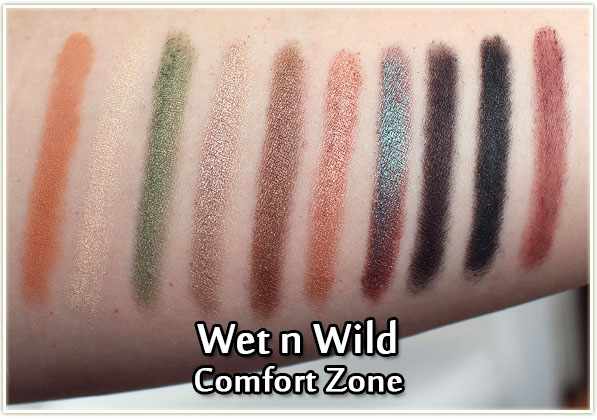 They've rectified that with this launch and the palette comes with two warm transitions shades – one lighter, one darker.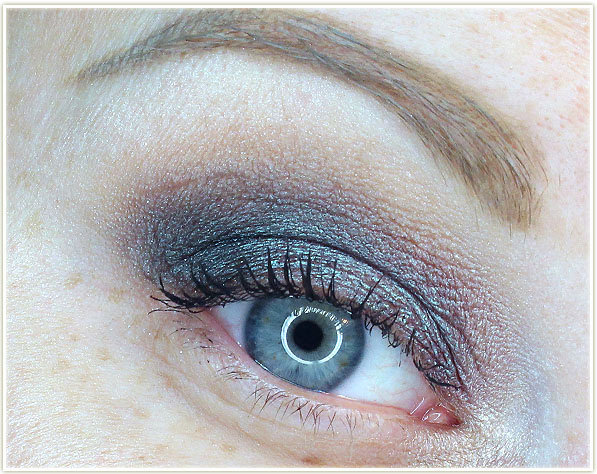 There's a lot of variety in this palette, but instead of keeping it to the neutrals, I used that blue/brown shade all over the lid and deepened it up with the darkest shade in the outer corner. The transition shade helped define my upper crease and the pewter shade added a nice highlight to the inner corner of my eye.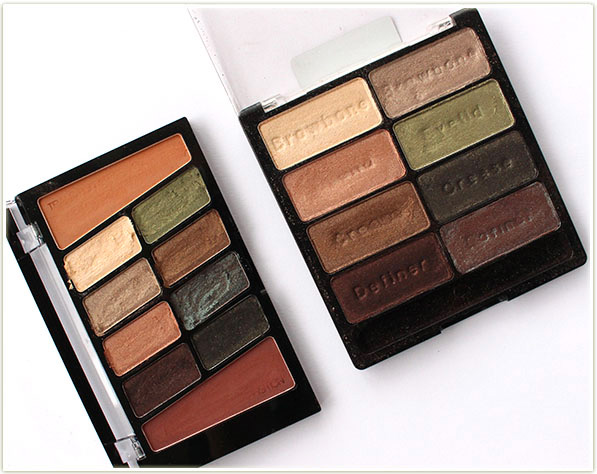 For comparison's sake, I pulled out my old Wet n Wild Comfort Zone palette (which I had attempted to declutter at one point, but everyone I knew already had it!). In just looking at the two palettes side by side, you can see how the matte brown shades help to ground the palette.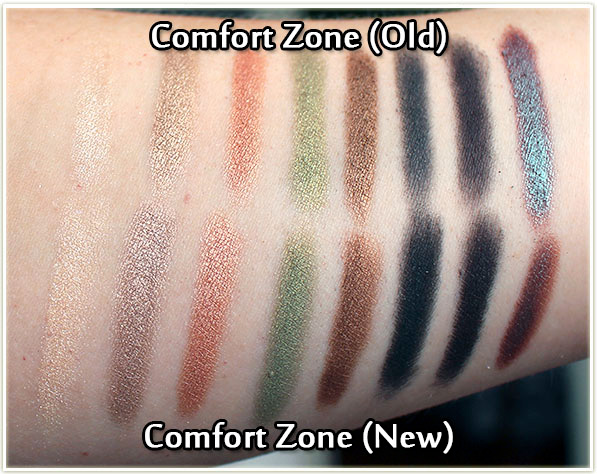 My double set of swatches on this didn't turn out so well, mostly because I'm really not showing you just how blue/brown that pigment is in the new palette (rest assured that it is, it's just my photography skills that need some help). There are practically no changes between the two palettes aside from the fact that the new palette has more pigmentation (plus the transition shades not pictured above).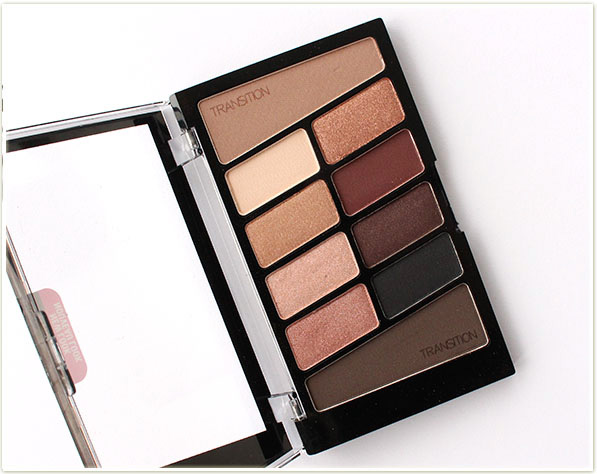 And lastly, one for the neutral lovers out there. The Nude Awakening palette is a revamp of a palette they had that was long and thin before. It was okay, but not something I ever really played around with much because… hello… it's neutral.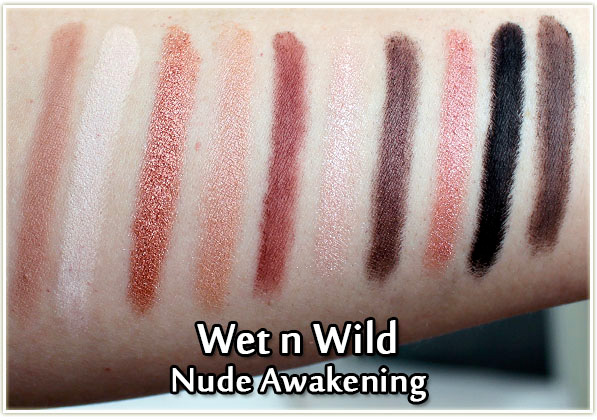 This revamp of the older palette is appreciated though – the colours are incredibly pigmented and far more enticing than I ever remember them being.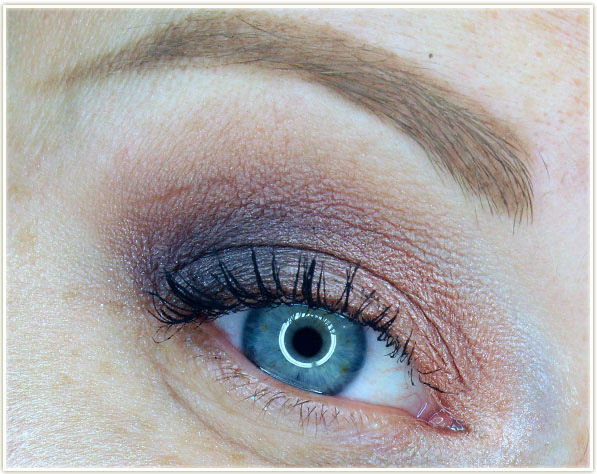 I kept it pretty simple for this one, but the colours, as with all of the other palettes, blended beautifully.
Final Thoughts
These Wet n Wild 10-pan palettes are incredible! Hands down… I really think this is the most exciting thing I've seen come out of the drugstore this year. To see a drugstore brand release such beautiful palettes with COLOUR and keep the prices low ($4.99 USD each)? I mean it's actually almost kind of unreal! And it's not like they skimped on quality either – these are blendable and pigmented, and even better than their previous palettes which were already great to begin with! I love the addition of the transition shades – it tells me that they're listening to feedback and making changes where necessary.
If it wasn't already clear, I love them immensely and I absolutely think you need these. ALL of these. And at $5 a palette, you are definitely getting the most pigmented, cheapest palettes you can find on the market. Well done Wet n Wild – you've got an absolute winning set of palettes on your hands!
The new Wet n Wild palettes are only slowly starting to be released right now, so you may have a bit of a hunt on your hands. As of right now, their web site has all 4 palettes available for $4.99 USD each, but you can expect them to trickle out to your regular retailer throughout the next few months.
The products featured in this post were sent to me for consideration. Post contains affiliate links.