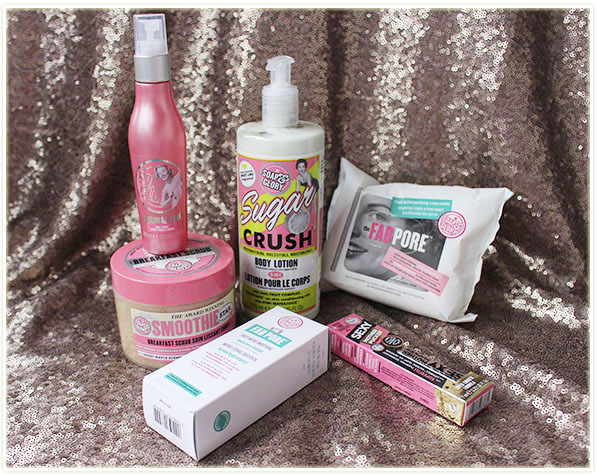 Although Soap & Glory has been at Shoppers Drug Mart for a long while (look for it near the end of the bath aisle, sometimes on an endcap!), the selection can end up being a little bit limited (and I'm still waiting on the full makeup range!). They've recently added a few more items to their range and I was more than happy to test some of them out.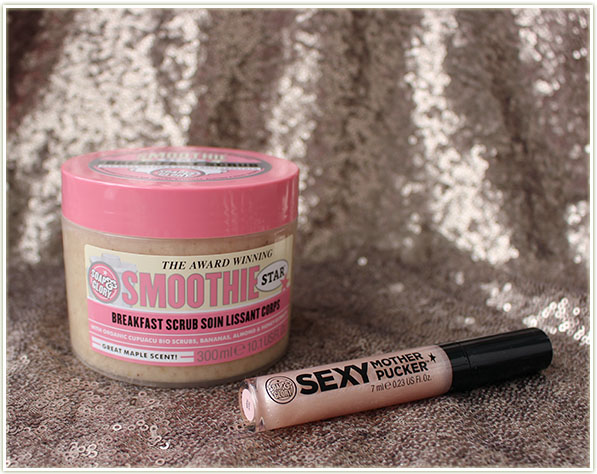 Let's start off with my absolute favourite products!
The number one new item I tried was the Smoothie Star Breakfast Scrub ($18 CAD). This stuff is absolutely UNREAL. And maybe it's because I'm Canadian, and this scrub has a maple scent, but the Breakfast Scrub is absolutely to die for. It smells edible (it's not though – so don't!) and it works like a dream. This has actually become my new favourite body scrub (sorry Tree Hut – you've been upstaged!) because the combination of the texture (dense but spreadable and plenty of exfoliation to leave you feeling smooth) and the scent makes this top notch in my book. If there's only ONE thing I could encourage you to try out in this post, it's the Smoothie Star Breakfast Scrub!
The Sexy Mother Pucker Lip Plumping Gloss ($14 CAD) is going to be for those looking for a little more plump in their lips. I know not everyone can handle the feeling of topical lip plumpers (and I'm not especially sensitive to them so keep that in mind) but this one in Spun Sugar felt a bit different from the ones I've tried in the past. It doesn't burn, but it almost feels like my lips are constantly moving? It's a bit of a hilarious feeling… almost like the product in the gloss that causes the plumping is jumping around for fun on top on my lips. It does plump mine a little but nothing too extreme, which is good in my books! I do notice the sensation disappearing after about thirty minutes, so you'll need to reapply if you want to feel that active plumpness happening on your lips.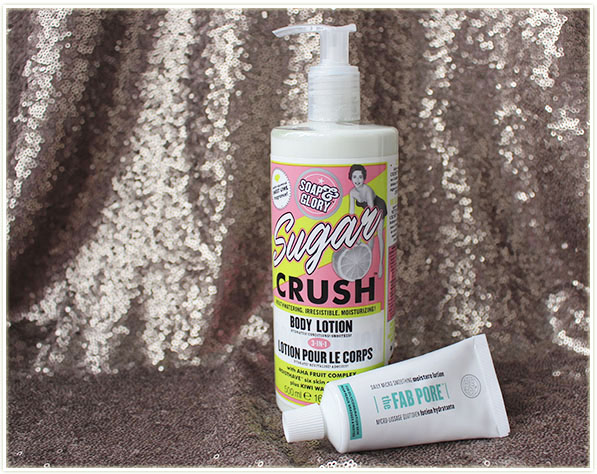 I've started using The Fab Pore on the daily as my morning moisturizer and I was really impressed with the performance of it. Not only from a "kept my face hydrated" perspective, but also because it performed really, really well under foundation. (And when I was done trialing it for the week or so for this review, I went back to the moisturizer that was currently in my rotation and quickly realized just how BADLY that one performs under foundation, so heck yes to The Fab Pore!) Part of the performance may be chocked up to the ingredients which help to mattify the skin and tighten your pores.
The Sugar Crush scent isn't new to Soap & Glory's range, but it is one of their most sought after scents. I believe it was previously only available as a body butter, but now it' sin the more fluid body lotion($16) format with a pump top (thank you!). The Sugar Crush scent is slightly intriguing to me: with a name like Sugar Crush you'd expect it to me syrupy-sweet, but that's not at all what it is! It's more of a lime scent with a sugary edge. It's one of the more unique fragrances out there simply because no one really makes lime-scented products!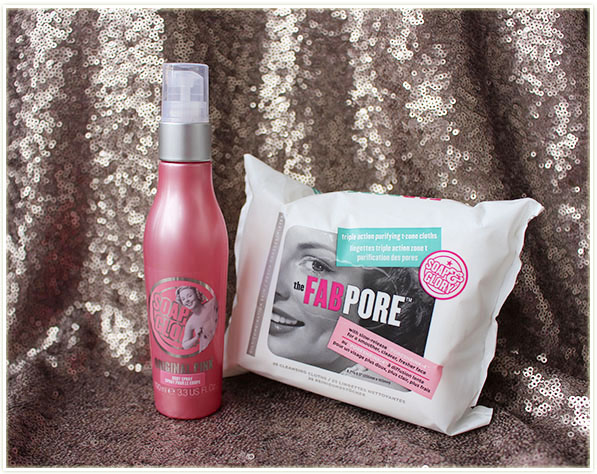 And lastly, we have the Soap & Glory Body Spray in Original Pink and The Fab Pore T-Zone Cloths.
The Body Sprays ($10 CAD) come in Original Pink (pictured), Smoothie Star and Sugar Crush. The Original Pink scent is identical to Hand Food scent (which I think is the original smell? I see it now in Sugar Crush-scented, but I've only tried it when it smelled this way). For me, this is a bit too much as a body spray – I like when my moisturizer smells this way (and I LOVE Hand Food), but I like to keep that scent localized to my hands. If you're a huge fan of the Original Pink scent though… then more power to you and get to spraying because the scent is very consistent with the hand cream!
It feels funny to end this review by mentioning a product I haven't tried yet, but hey – here we are. I've got way too many packages of makeup wipes open right now and don't want them to dry out so I've avoided opening The Fab Pore Triple Action Purifying T-Zone Cloths. ($10 CAD). Interestingly, these wipes are not fundamentally geared towards makeup removal – these seemed to be advertised as wipes to help purify and clean your face while also tightening your pores. If you've tried these out, let us know how you feel about them in the comments!
And that's everything brand spanking new by Soap & Glory in Canada! I've been using their products for years and am never disappointed. I am so, SO glad to have discovered my new favourite scrub in this roundup of products!
For those of us in Canada, Soap & Glory can be purchased at Shoppers Drug Mart and some of their products are available online via beautyboutique.ca. If you're in the USA, you can find a wide array of Soap & Glory at ulta.com.
The products featured in this post were sent to me for consideration. Affiliate links are included.