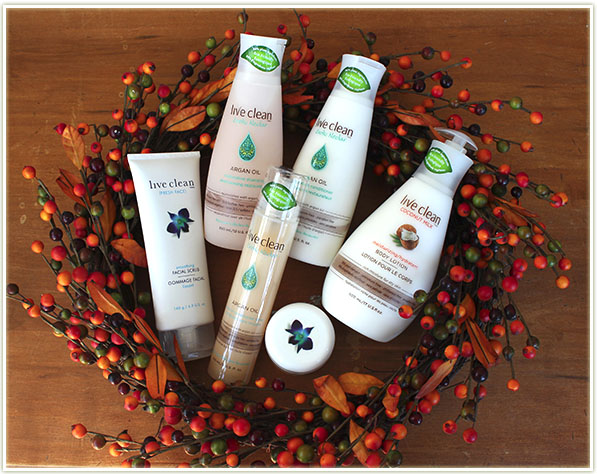 Although we've also had some unseasonably warm temperatures in September and October, Toronto is *finally* starting to cool down and I can feel my heart singing with the cooler temperatures! (Seriously, summer begone! I'm done with you!)
With the cooler temps, it's time to wrap ourselves in hydrating products and warm, refreshing scents, and what better way to do that than with products that are easily found at the drugstore, do their job well AND are inexpensive? Live Clean has you covered on all those angles!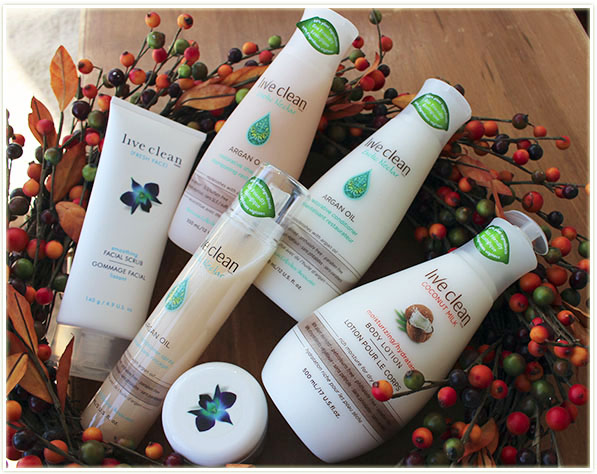 This a roundup of some of Live Clean's most effective and best selling products that will help keep you clean, exfoliated and moisturized as we head into the drier months. Let's dig in:
Exotic Nectar Argan Oil Restorative Shampoo and Conditioner: I don't know what it is about this particular formula or scent, but I LOVE it. I'm not traditionally someone who likes the smell of argan oil – I generally find it too heavy and clingy in my nose. However, this particular shampoo and conditioner has none of that cloying scent I've come to dislike! I was also pleasantly surprised at how light my hair felt after using these products – because they're labelled as moisturizing, that usually tends to weigh my hair down. Not the case at all!
As my hair grows longer and longer (I really only get it cut once a year), I find myself with a knotted mess after I've towel dried my hair. It's a disaster when I try to run a comb through it, so a leave-in conditioner spray or detangler is a huge must. The Exotic Nectar Argan Oil Leave-in Conditioner Spray works like a charm and lets my brush glide through my hair as opposed to the usual "snag and tear" method that I usually resort to.
Let's not forget your face though – get it all scrubbed up and exfoliated with the Fresh Face Smoothing Facial Scrub. I love, love, LOVE the texture on this one. Not too gritty, not too few scrubby bits and just the right feeling!
And when you need to get moisturized up before hitting the sack, slather on some Fresh Face Nourishing Night Cream which is blissfully not too thick and gunky and cover your body with the Coconut Milk Moisturizing Body Lotion (which, of course, smells freaking incredible).
Of course, there's a lot to love about Live Clean aside from cute packaging and lovely scents! Their products are:
98% plant and natural based ingredients
SLS and silicone free
Petrolatum, paraben and pthlatate free
DEA free
Phosphate free
Dye free
Vegetarian formulas
Never tested on animals
Hypoallergenic
Biodegradable ingredients
Packaging recyclable
That's a lot of awesomeness wrapped into a product, isn't it??
Live Clean Autumn Giveaway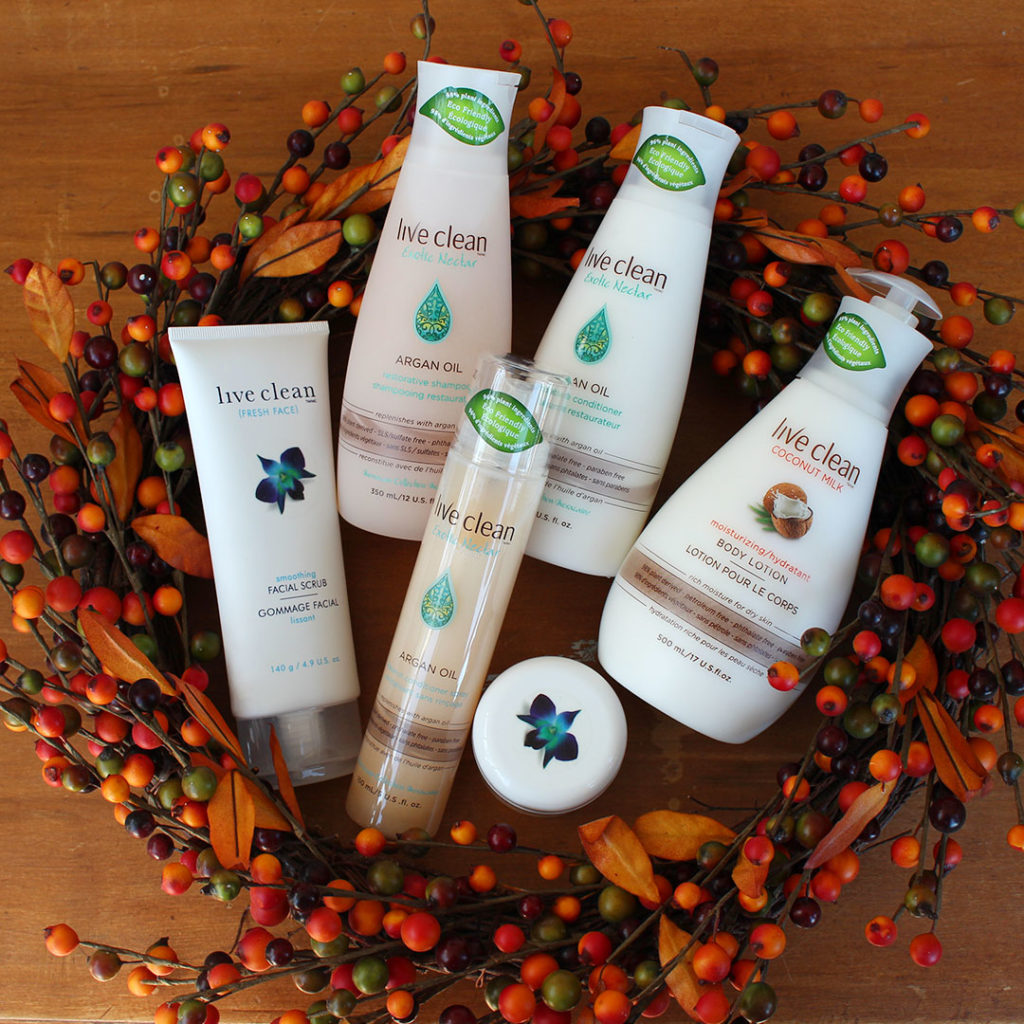 The people at Live Clean are amazingly generous and often reach out about doing giveaways. I can never say no because their products are wonderful and I love spreading the word about the brand. One person will win the following:
Live Clean

Argan Oil Restorative Shampoo

Live Clean

Argan Oil Restorative Conditioner

Live Clean

Exotic Nectar Argan Oil Leave-in Conditioner

 Spray

Live Clean

Coconut Milk Moisturizing Body Lotion

Live Clean

Fresh Face Smoothing Facial Scrub

Live Clean

Fresh Face Nourishing Night Cream
Giveaway Rules
This giveaway is open to Canada only!
This giveaway starts on October 7, 2017 and runs for one week.
Please be aware that all entries will be double checked to ensure fairness.
One winner will win the Prize Pack pictured and described above. 
The winners will have 48 hours to respond to my e-mail. If they fail to respond within that time frame, I will pick another prize winner. (And so on.)