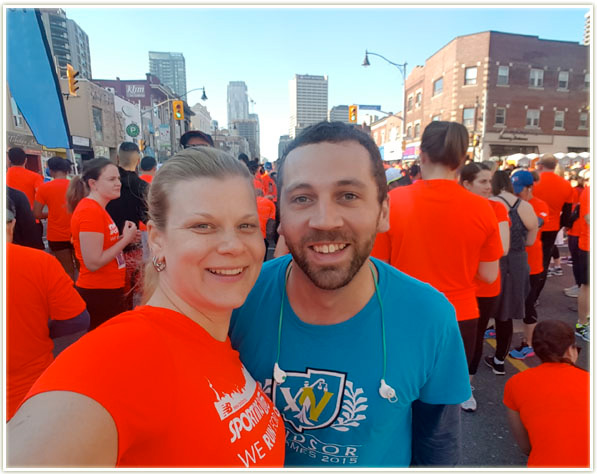 This was my third time running the Sporting Life 10K as I had somehow gotten myself roped into it by my coworkers. I say "roped into it" because a the 10K distance is my least favourite race distance. There's just something so awkward about 10K – you have to run close to your 5K pace… and yet it's for double the distance! Ugh! Plus, I had kinda bombed my last 10K race in New York City (that race recap can be found here) so I kinda figured I wasn't really set up properly (in training) for this distance.
The one massive upside though? Almost the entire course for the Sporting Life 10K is downhill, which automatically means you'll be pulling a faster time overall.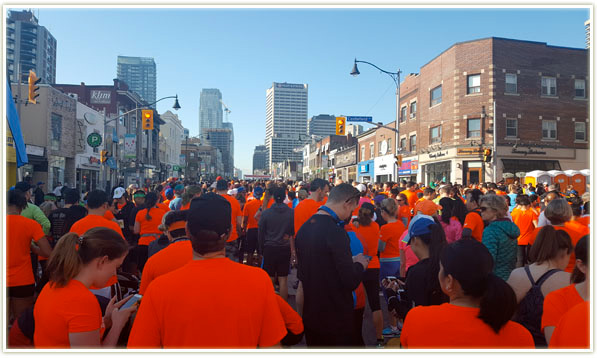 My friend Jordan and I live in the same neighbourhood so we Ubered up to the start zone and got in our corral mere minutes before the race started. I like getting there just before the race starts because then you're not standing around idle freezing your butt off until you start running, so it worked out well for us! We were both in the 56-59 minute finish time corral. I was hopeful for a 56 minute finish, but my last race a month prior had been just shy of 60 so I was kinda doubtful. Jordan had never done a 10K race before, but he'd run the distance the previous week and had clocked in around 55 minutes, so he could've potentially gone in the faster group. As our group started out, we wished each other well and started out at our own pace.
I tried to find my coworkers throughout the race, but I never saw them. I knew we were in the same corral, but when the race has approximately 20 THOUSAND people in it, it can be very difficult to find someone amongst the masses!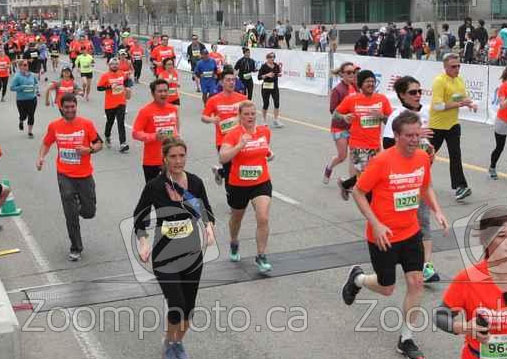 Although the 10K distance is not my favourite, this IS a lovely course. The downhill section (basically the first 7-8 kilometers) gives you a completely different vantage point than you would normally see in any given race. You're constantly looking far down ahead of you and all you can see are masses of people. It might look like a crowded mess at times (and it certainly feels like that when you're trying to get around people!), but it's a beautiful mess because you know that we're all in this together.
Sidenote: This was one of the WORST races in recent memory of people coming to a crashing halt in the middle of the course. People please – DO NOT STOP IN THE MIDDLE OF THE COURSE! Slow yourselves to a halt by the sides, not in the middle! (Read this post on What NOT To Do In A Race – it might be helpful.)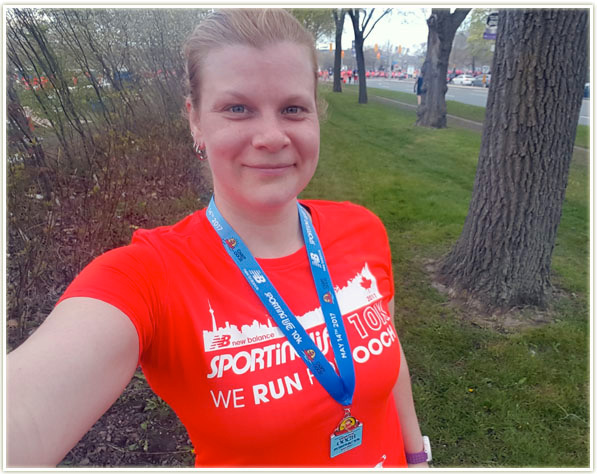 I crossed the track mats a little bit unaware of my finish time – I couldn't for the life of me remember what my previous paces had been on this course. I prefer comparing this race only to my other Sporting Life races because of the downhill aspect – everyone is automatically faster on this course, so using this as a personal best time is just ridiculous since it has severe advantages over even a flat course.
In the end, I finished the race with a time of 56:12 – which turned out to be my fastest on this course (by 11 seconds from my 2014 race). Even more interesting is that I basically kept the same pace for the entire race – which is something I almost never manage to accomplish. My first 5K was at a pace of 5:36/k and my second 5K at 5:38/k. Usually I plummet in speed for the second half of any race, so  this really felt like I had more endurance overall. I was DEAD pleased about that!
This year is shaping up really well for my race paces and I'm so, so happy that I finally feel on track again!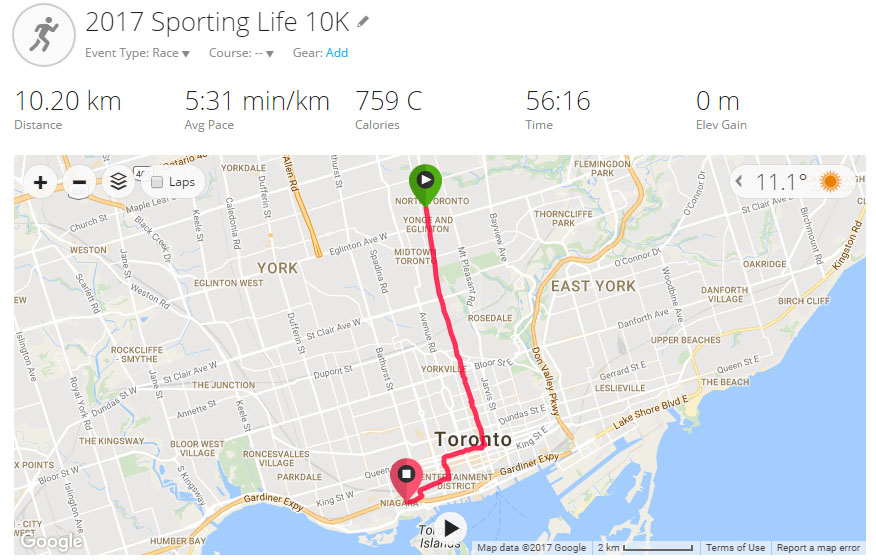 Race Recap
Finish Time: 56:12
Pace: 5:37 per kilometer
Overall placement: 6118/18500
Age group placement (Female, 30-34): 409/1687
Gender placement (F): 2314/10552