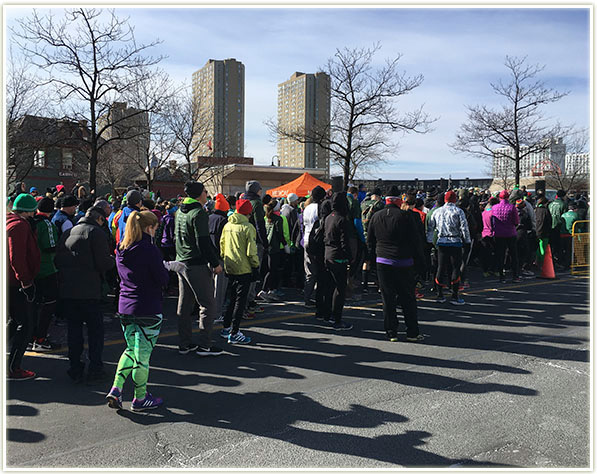 Happy St. Patrick's Day everyone! I hope you're wearing some green and having a lovely day. 🙂
So, my favourite race of the year is always the Achilles St. Patrick's Day 5K! I'm a wee bit obsessed with all things Irish and green, and I can think of no better way to start my St. Patrick's Day festivities than with a 5K race in cool weather, surrounded by a sea of green runners!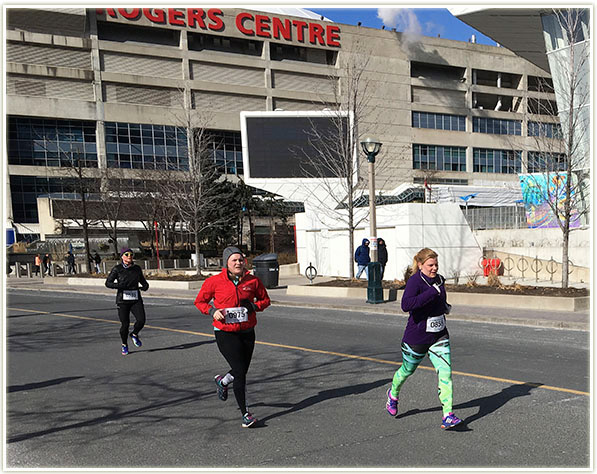 As I've been whining about (for an eternity now), I've gained ten pounds in the last two years or so and it's not really going anywhere. Last year really SUCKED for races for me – I barely stayed under 27 minutes in the 2016 version of this race, and then the rest of the year was spent languishing around 27:30 race after 5k race (which I was personally pretty really ashamed about). So towards the end of last year, I started to make significant strides and changes to my workout program – I was lifting weights on the regular and I was determined to actually train properly for a 5K.  I had set out a plan to do long runs, mixed with tempo and sprint runs and, for the most part, I had stuck to it. That being said, I hadn't done everything I thought I possibly could do before this race, so I was nervous right up until the night before the race.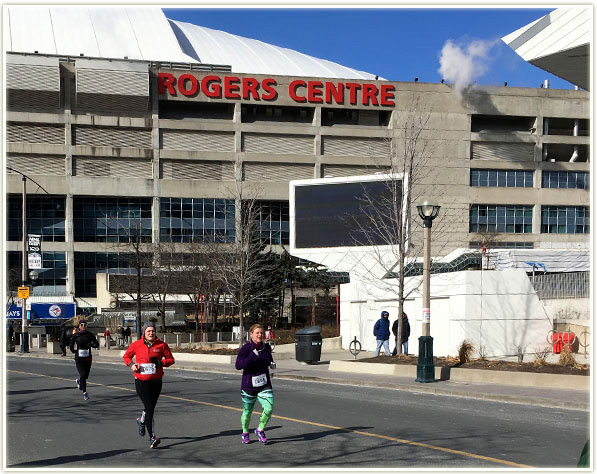 And then, the night before the race, I suddenly looked at the predicted temperature in the morning and my nervousness evaporated: the morning temperature was expected to be around -12C with a windchill of -20C. My inner monologue was basically "fuck it, it's too cold. Don't expect anything out of this race." Toronto's winter this year has been warmer than normal and I haven't had the opportunity to train my lungs for a cold weather run, never mind a race, in temperatures that were around -10. So I figured to hell with the nerves as there'd be no way in hell I'd be able to bust out a decent time.
I. Was. So. Very. VERY. WRONG!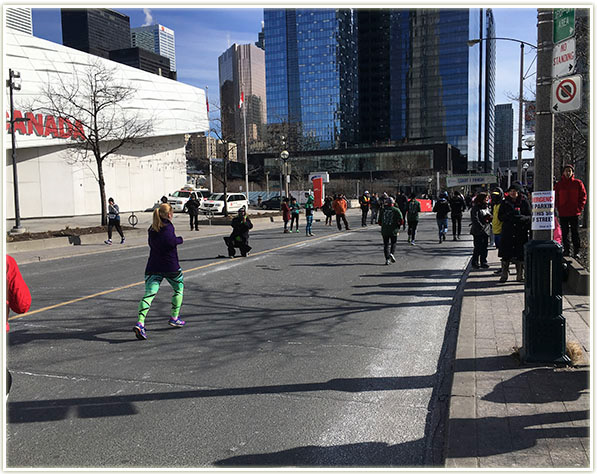 The morning of the race was cool and brisk, but the wind speed was low. The temperature, while around -12C, didn't have a windchill much colder than -15! David and I stayed inside the doors of the Metro Toronto Convention Centre until just before the race so that I could keep warm (lifesaver!). For once in my life, my stomach wasn't churning before the race and I felt relatively at peace (although for about 30 seconds I thought I'd forgotten my earphones… that would've been game over for sure).
So when the air horn sounded, I started the race at a really comfortable pace. So comfortable in fact that I forgot to turn my Garmin on for a few seconds! Reality set in within the first twenty seconds and I was like… "well my lungs aren't dying, I feel good… but there's a lot of people in my way." So I started to weave in and out of the pack to get around the slower runners until I caught up to the people that were moving more my own pace. And honestly? I felt GOOD. I felt in control on my body and I felt strong. I wasn't gasping for air and I wasn't super dehydrated (which is normally how I start races – with a dry ass mouth because I'm so nervous).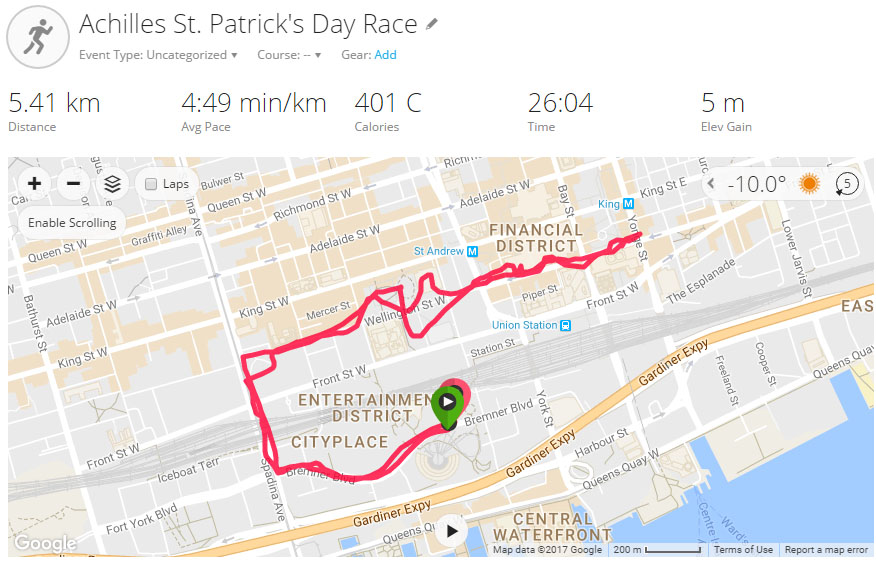 Realistically, I didn't know how fast I was moving because my Garmin really struggles to determine speed when there's so many tall buildings around. If you look at the map above, you can see how erratic the trajectory line gets on what's supposed to be the straight line down Wellington Street – so it really overestimates your speed since it thinks you're doing hella crazy maneuvers. I had an idea that I was moving at a decent clip because I was mostly passing other people and not being passed all that often. Sadly, when we hit the 2.5k mark where the loopback occurs (at Yonge Street), the water I was looking forward to was nowhere to be found. Ughhhh! Next year I need to remember to bring my own water!
However, it was a good thing there was no ability to stop and drink because I kept pushing on… and nailed the finish line with a race time of 26:06! Four seconds faster than my previous personal best (PB) and an enormous 60-90 minutes faster than my average 5K race pace from 2016. I was ECSTATIC! I was so damn happy I almost started full on crying when I saw my chip time come up on Sportstats.ca – there were tears welling up in my eyes! All of the work I had put in, despite feeling like it hadn't been enough, had DEFINITELY paid off and I couldn't be any happier! This race only further convinced me that I do far better in subzero temperatures – I am definitely built  for – and thrive in – the cold!
Race Results
Finish Time: 26:06
Pace: 5:13 per kilometer
Overall placement: 323/1313
Age group placement (Female 30-39 years): 38/262
Gender placement (F): 108/742
By the way, if you're ever interested in the other races I've run, you can always visit my Race Results page for a breakdown by year and by race. Enjoy!