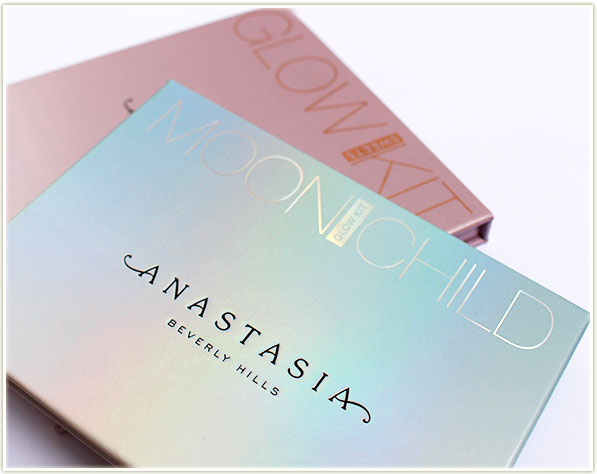 This whole whacky coloured highlighter craze is hitting and I am definitely falling rapidly in love with it! For SO LONG we've had very general highlighter colours – your basic champagne, pink-white, gold and… that's about it. There's not a whole lot of variety amidst that so it's really, REALLY nice to see something completely unique in that area of makeup.
And Anastasia Beverly Hills delivers when it comes to offbase coloured highlighters. I recently picked up both their Sweets and Moonchild Glow Kits (exclusive to anastasiabeverlyhills.com, sadly) and I'm stupidly excited about these!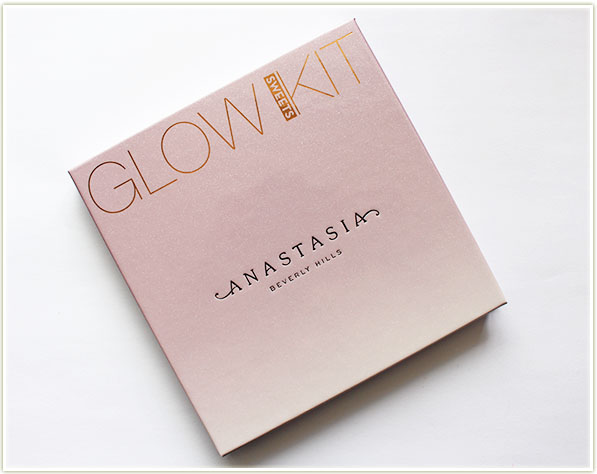 The Sweets Glow Kit ($40 USD) features four metallic powder highlighters for intense luminosity. What drew me in to this one were not only the shades (a purple highlighter??) but also the names. That Marshmallow one suckered me right in (any Veronica Mars fans out there?)!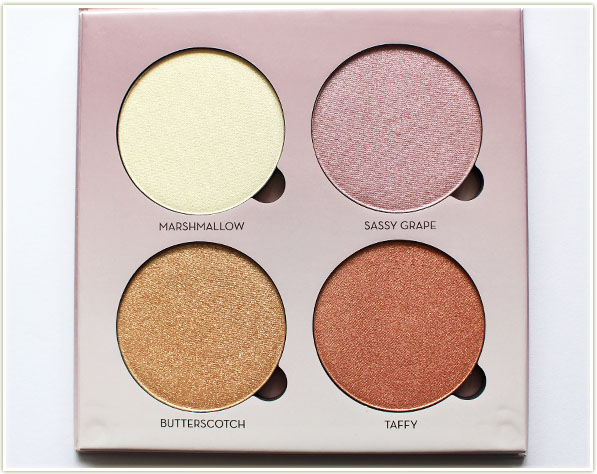 At first I wasn't sure how the darker colours were going to play out on my skin, but I was more that willing to give them a shot!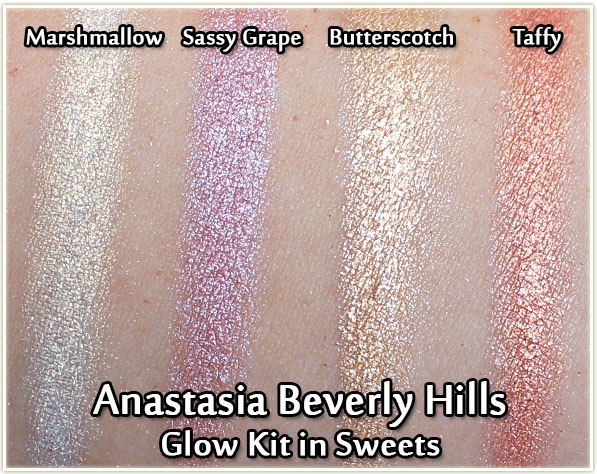 In swatches, you can see the Butterscotch shade loses a big of its deepness (fine by me), although Taffy looks pretty darn pigmented (more like a blush really). Butterscotch seems to be the only shade with glitter particles actually suspended within the formula. This is worth noting because the other three shades don't have these glitter particles and I did find that the flecks of glitter ended up in weird spots on my face (I was sporting a glitter moustache for a while).
But really, arm swatches will only show you so much… here's what they look like on my face. All swatches are on only foundation – I'm not wearing blush or bronzer – and I've applied the highlighter as if it was my blush and highlighter in one, and quite heavily at that. I really wanted you to be able to see the colour difference in each shade.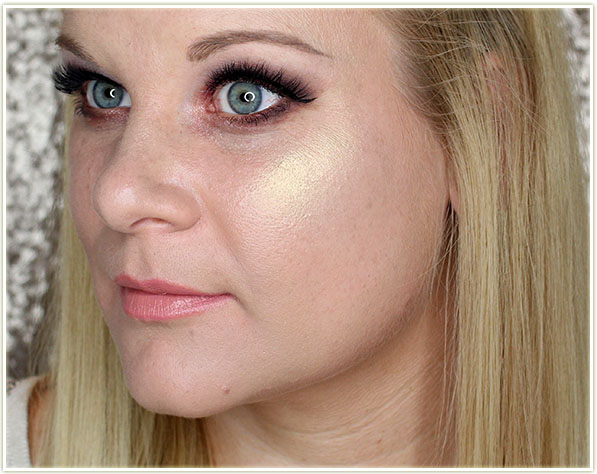 Marshmallow is a gorgeous white with gold reflect to it. The duochrome of this shade is so, so freaking gorgeous! You can see me apply it to my face in my recent video tutorial.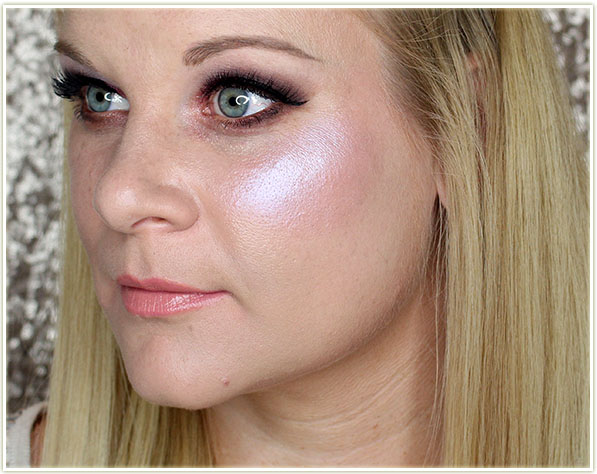 Sassy Grape is, aptly, a frosty grape. I was stunned with just how much I love this shade as a highlighter and I've been wearing it a lot lately. I tend to pair it with a purple blush (Urban Decay Bittersweet, to be specific) and I'm always in awe of just how gorgeous it looks.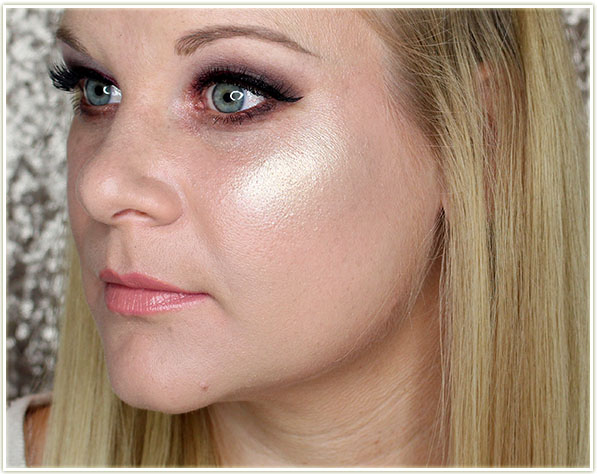 Butterscrotch comes out a bit paler on my skin than I was expecting from the pan – but I'm okay with it because it still makes it wearable on my skin tone. There are flecks of glitter in it which I wasn't expecting, so just be aware of that when you're using this shade.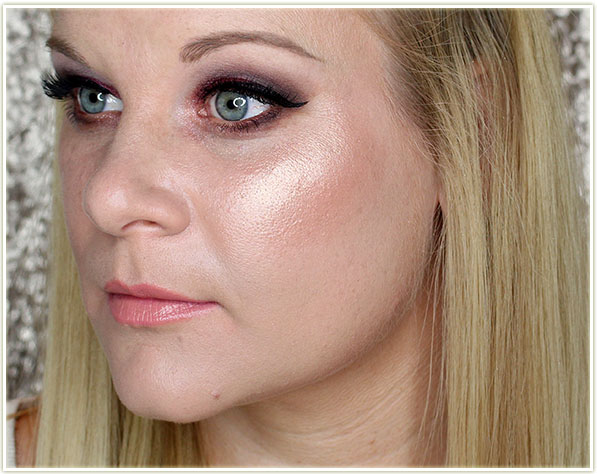 Taffy is definitely the shade I've worn the least because it has a lot of pigment to it. I wear this more as my blush and highlighter in one.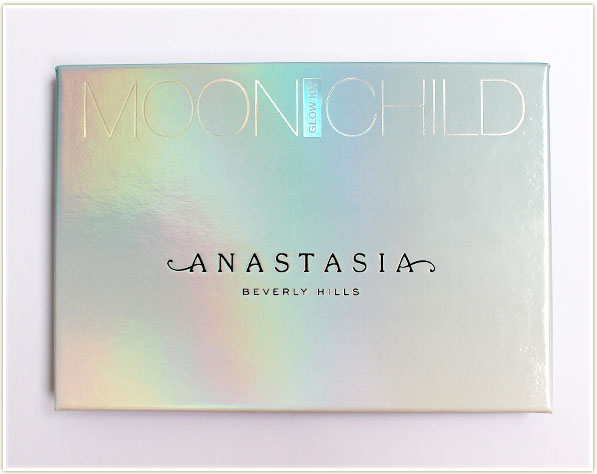 So after I bought the Sweets Glow Kit… I was kind of sitting there going "I need the other one too"… because you know what… when a product is that awesome, I basically want all of the shades I can get my hand on! So I bought the Moonchild ($40 USD) palette as well!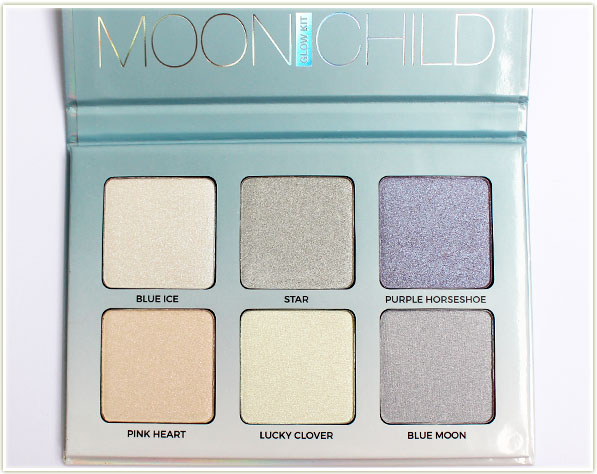 This kit has six shades instead of the usual four, and they're slightly smaller pans.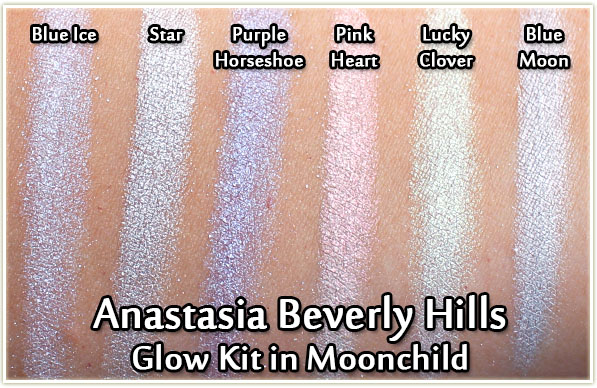 While I appreciate the green and pink highlighter so much in this kit, I do find it veers very, very blue and silver. I wasn't able to capture Lucky Clover very well with my camera, but rest assured it's a very lovely green highlighter (something I never, ever thought I would say!).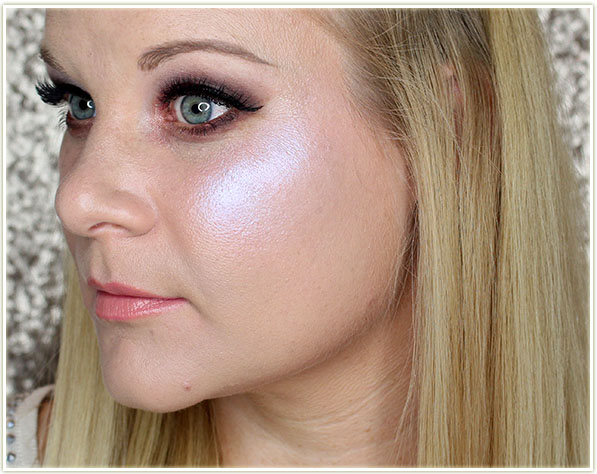 Out of the two blue shades, Blue Ice is definitely my favourite. On me, it leaned slightly purple as well.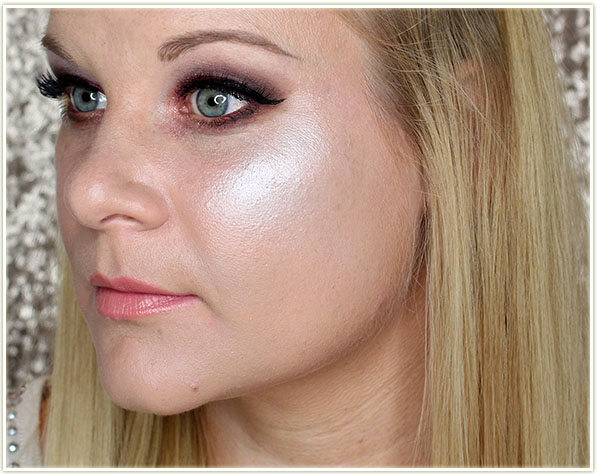 Star was really weird looking when I first put it on, and I'm struggling to think what kind of blush I would pair with it, BUT on its own, once I got used to that silver sheen, it really started to grow on me.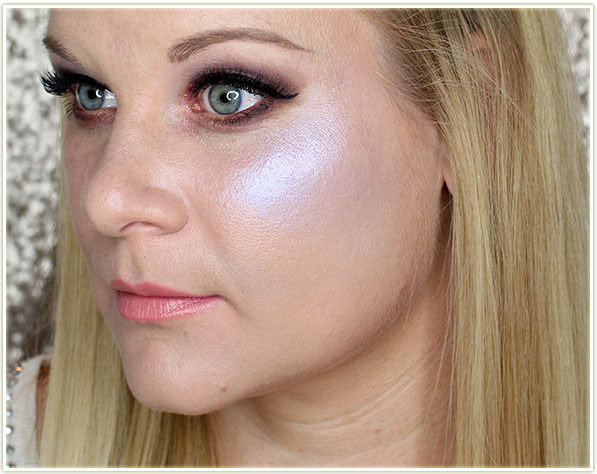 Sadly, Purple Horsehoe wasn't as purple as I thought it was going to be (especially given the colour in the pan), so I don't find it that different from Sassy Grape.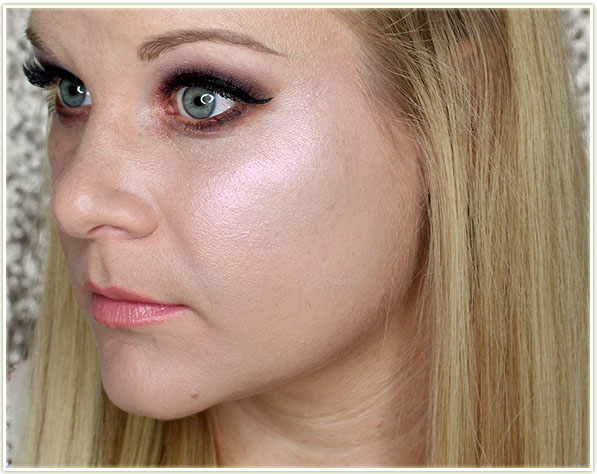 Pink Heart is STUNNING! It's a luminous pink highlighter with a hint of a neutral-green base in the pigment (sounds weird, but if you know the MAC eyeshadow Vex, you'll get the idea).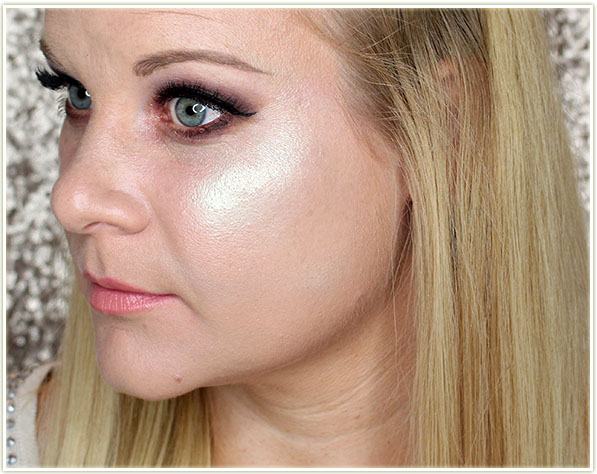 Lucky Clover is making my heart sing because I have an affinity for green and clovers, so I'm allll about this shade. I'm disappointed with my photography on this shade, I don't think it comes across as it did in person, which is slightly more green, although not at all unwearable.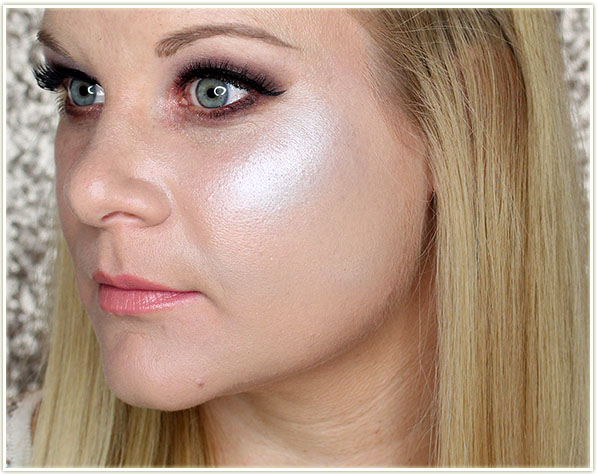 Blue Moon is a blue-silver shade that's basically a cross between Blue Ice and Star. It's okay, but again… there's a lot of blue in this palette.
Overall Thoughts
Do I even need to say it? I love these Glow Kits so, SO much. The colour are unique and fun to use. They're vibrant enough that the underlying coloured pigment comes through, but not so over the top that it looks like a big ole streak of eyeshadow used as a highlighter instead.
I find that Moonchild has a lot of similar shades, but the pink and green make up for that for me. I'm so happy that I'm seeing something completely new in the highlighter world – it's a breath of fresh air, you know? And while the colours may seen a bit out there for some people, because they're so luminous, you could get away with applying these lightly so that only a hint of colour shows. Of course, if you're like me and you want others to appreciate your purple highlighter from afar – slather it on and let your highlight gleam!
Giveaway Time!
Now here's the best part! Anastasia Beverly Hills accidentally sent me TWO packages of the Glow Kit in Sweets, and since they were carted back from the States the lovely Shawna, I sure as heck wasn't going to send one back to them on my own dime! So I'm hosting a giveaway!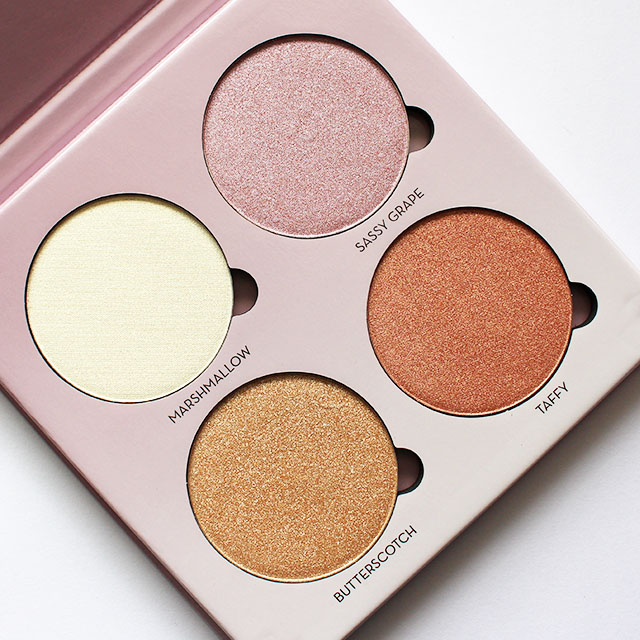 One winner will receive:
Anastasia Beverly Hills Glow Kit in Sweets
Giveaway Rules
This giveaway is open internationally!
This giveaway starts on September 19, 2016 and runs for two weeks.
Please be aware that all entries will be double checked to ensure fairness.
One winner will win the Anastasia Beverly Hills Glow Kit in Sweets pictured and described above.
The winner will have 48 hours to respond to my e-mail. If they fail to respond within that time frame, I will pick another prize winner. (And so on.)
"Giveaway accounts" will not be considered for this prize. (If you want to know what I mean by that, please click here.)
Good luck!