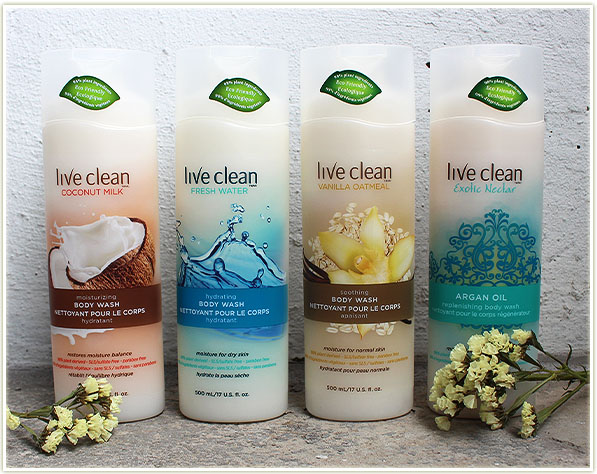 You know what's really, really nice? When you're introduced to a product, love it, and then discover that it doesn't break the bank at all!  And that's exactly what's happened with these gorgeous Live Clean body washes – they' rich and foamy, the bottles are ENORMOUS (seriously – there's 500ml per bottle!) and they're on well.ca for just under $8 CAD each!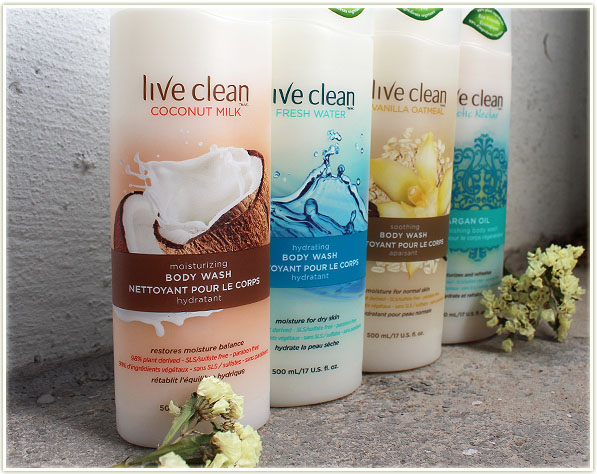 Live Clean introduced their line of body washes to the world six years ago. The brand is entirely vegan with no animal products (or even by-products) in their formulations. They're also eco-friendly and are committed to having as little environmental impact as possible. They're also completely void of SLS/sulfates, phthalates, petrolatum, silicone, dyes, parabens, DEA and phosphates!
The top three favourites that the team at Live Clean love the most are:
Coconut Milk: I love this one because it has a glorious rich and creamy scent that veers on the less tropical side of things for a coconut scent. It's more of a warm coconut scent than a beach vibe (if you know what I mean) and I quite enjoy that different take on a coconut scent!
Fresh Water: I'm all over any kind of aquatic scents so I knew I was going to love this just by looking at the blue water logo on the front of the bottle. And sure enough – I'm in love!
Exotic Nectar: This is the scent that really made me fall in love with Live Clean. I was over at Julie's place and got a whiff of these and I was totally stunned by the scent. Their main scent is argan oil and I am NOT a fan of that smell at all – but there's something about the way this scent is blended that is extremely pleasing to me.
And, lastly,  brand new to Live Clean's range is their Vanilla Oatmeal scent. I personally smell a lot more of the oatmeal side of things with a hint of vanilla. While the three scents I mentioned above are more summer scents in my mind (although I'll gladly use them year 'round!), this Vanilla Oatmeal one is the kind of warm, inviting scent I want to be using during the cooler months.
You can find a wide range of Live Clean's body washes on well.ca, but they're also sold at Shoppers Drug Mart, Walmart, London Drugs and Amazon!
So what about you? Have you tried Live Clean products before?
The products featured in this post were sent to me for consideration.