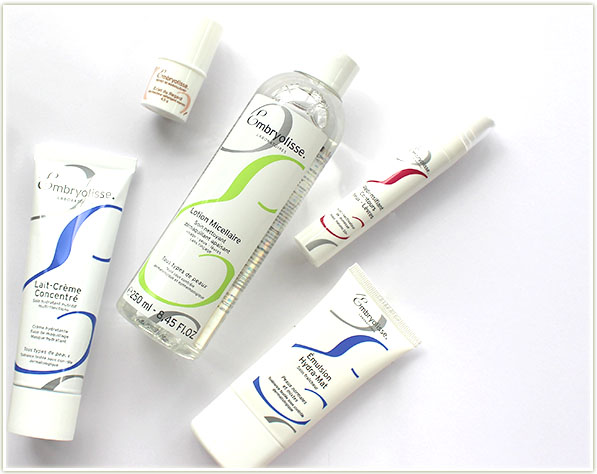 Embryolisse is one of the brands that I always asked my mom to bring back from her vacations to France. I didn't care what she brought back (although I often told her the Lait-Crème Concentré was my favourite) just so long as she gave me some new products to try by them!
So imagine how happy I was when I received an e-mail letting me know that Embryolisse would be available at Shoppers Drug Mart in Canada starting in September! No longer did I have to wait for my parents or brother to come back from Europe with my Embryolisse goodies!
There's a lot to check out by them, but let me make some recommendations:
Lait-Crème Concentré: Made infamous by the pixiwoo sisters, this nourishing moisturizer is suitable for all skin types. While I use this to moisturize, it can also be used to remove your makeup and as a cleanser! This is hands down my most repurchased high-end moisturizer – I've gone through probably about ten tubes of this. It's super hydrating and doesn't take forever to sink into your skin. ENORMOUS favourite (which you can tell, because this was the only moisturizer I brought with me on my trip to Bali and Australia in September!).
Hydra-Masque (not pictured above): I already have a full review of this moisturizing mask on my blog from 2015 (read that here), but in short, this is a dry skin saviour. It's packed full of hyaluronic acid, natural plant oils and vitamins A, E and F to help regenerate the skin's barrier.
Émulsion Hydra-Mat: I've never been one for a mattifying moisturizer, but it was sent to me so I gave it a shot. My mind was BLOWN! This is a lightweight moisturizer that feels hydrating but leaves a velvety finish on my skin that actually helped my foundation. It took about 1-2 hours longer for the oils in my skin to come through in the foundation on a regular day of makeup wear. I was amazed!
Lotion Micellaire: I always have micelle solution in my skincare rotation and this one is just as excellent as all the others I've tried. You can use this to tone your face, but I prefer to use this as the last step in my makeup removing routine. I never find these can remove ALL of the makeup on my face in one pass, so I prefer to use an oil-based cleanser to break everything down, and then I'll run a cotton pad soaked in this product and clean up everything was left behind. You don't have to rinse your face after using this, so it's a wonderful last step for me!
Eclat du Regard: Oh wow! I wasn't sure what to expect with this one since it's labelled as an "express cooling and refreshing eye care" product. But this little baby stick is filled with the softest, most buttery textured eye cream I've ever felt. It goes on your skin like butter, but melts in rather quickly so you're not left with some kind of residue. You can apparently use it under makeup, but I liked to use it before going to bed at night.
So that's my roundup! So far I only see the Lait-Crème Concentré listed on beautyboutique.ca but there should be more coming soon. Let me know if you've tried out Embryolisse before and what your thoughts are!
The products featured in this post were sent to me for consideration. Post contains affiliate links.